Hiya, Dalmatian dog owners! What's your dog chewing on right now? Is it some generic dog food brand? Stop that, immediately!
A sensitive dog like the Dalmatian needs extra special care. That means extra special dog food. You can't allow your Pongo or Perdita to have tasteless kibble that will make their tummies hurt. The other 101 Dalmatians wouldn't approve of it!
Instead, why don't you check our list of best dog food for Dalmatian dogs? We've got only the premium choices you can find on Chewy. Also, we offer a 100% guarantee that both you and your Dalmatian will love the next food you choose!
Puppies are fast-growing, and their growth needs to be supported with premium-quality dog food packed with good proteins. The Rachel Ray Nutrish puppy kibble will follow your pupper's needs and raise it the right way. This real chicken and brown rice recipe is not only delicious for your puppy, but it also has many benefits.
This recipe has real deboned chicken as the first ingredient, followed by chicken meal and brown rice. It's rich in fibers from brown rice; thus, it supports good digestion. What else this recipe is rich in are good fatty acids, omega-3, and omega-6. They support good skin and coat health, and they can be found naturally in chicken fat. The EPA and DHA support good vision and brain development. Thanks to plenty of calcium, your dog's bones and joints won't be fragile or susceptible to bone diseases.
Even though it was designed for puppies, Rachel Ray's Nutrish kibble can be used for dogs of all ages. It's free of preservatives, fillers, artificial flavors, poultry by-products, and wheat and wheat gluten. Instead, it's packed with vitamins, minerals, and taurine for a healthy Dalmatian puppy!
This grain- and legume-free puppy dog food will let your Dalmatian puppy have a taste of the wilderness. Made using multiple real meat proteins, the Stella & Chewy's Wild Red kibble is one of the best dog foods on Chewy for Dalmatian puppies.
Since it contains so many protein sources, we can say this kibble satisfies all the needs of a growing puppy. The high protein count is an incredible 92%, and it comes from chicken, turkey, quail, guineafowl, geese, and duck. Such food is suitable not only for puppies, but for adult dogs, too. Besides proteins, Stella & Chewy's kibble contains superfoods like chia seeds, blueberries, pumpkin, sweet potato, spinach, broccoli, beets, and carrots – all from organic sources.
The recipe is packed with L-carnitine, which ensures that your puppy won't gain too much weight. All the unnecessary fat will turn into energy that the puppy needs for its daily adventures. This kibble is not only healthy, but it tastes great with its freeze-dried raw meat coats in every bite. Once your puppy tries Stella & Chewy's kibble, you won't need another dog food brand.
Freeze-dried raw-coated kibble belongs to the future. This way of preserving nutrients is not only innovative, but also incredibly tasty for your puppy. Merrick Backcountry Raw kibble is definitely the dry dog food of the future.
With real deboned chicken as the first ingredient, this dry food guarantees a healthy body with lean muscles and good bone health. Besides the high protein count, the recipe is rich in vitamins and minerals, salmon fish oil, an incredible source of iron, potassium, vitamin B12, and fibers. Your puppy's digestive system will be thankful. The high levels of amino acids support healthy skin and a lustrous coat, while chondroitin and glucosamine take care of the puppy's joints and bones.
Merrick Backcountry dog food is a good choice for your Dalmatian's diet since it's grain-free, gluten-free, and contains no wheat, corn, or soy. The recipe is completely suitable for dogs suffering from sensitive stomachs. This dog food is homemade in Merrick's kitchen in Hereford, Texas from locally-grown ingredients and free-range chicken meat.
Blue Buffalo Wilderness Puppy Food is a well-known dog food brand for both puppies and adult dogs. Your Dalmatian puppy will grow up to be a healthy adult Dalmatian if you switch from generic puppy food to Blue Buffalo. Here's why dogs (and we, too) love Blue Buffalo!
This recipe has real chicken as the primary protein source, which will satisfy your pup's nutritional needs. The high-quality protein recipe is supported by sweet potatoes, carrots, blueberries, cranberries, and other ingredients that are packed with nutrients. Not only will your dog's hunger be satisfied, but he'll also get a boost of energy and essentials from taurine, amino acids (DHA and ARA), vitamins, minerals, and antioxidants. You know, only the "good stuff"!
The Blue Buffalo Wilderness recipe is made without corn, soy, wheat, artificial colors, and flavors, as well as without meat by-products. It includes LifeSource Bits, a blend of antioxidants, vitamins, and minerals for a powerful immune system. That's exactly what a growing puppy needs.
Although most of the dog foods on our list are poultry-based, it doesn't mean a Dalmatian shouldn't take other meat proteins, like those coming from lamb meat and lamb meal. Nutro Lamb & Sweet Potato is kibble crafted for medium to large dog breeds, which makes it suitable for Dalmatians.
A chicken-free diet may help your dog with food allergies since such recipes may contain potential allergens. That's why a lamb recipe is such a good idea. It's a good source of proteins and amino fatty acids for good muscle development and a functioning metabolism. The Nutro Lamb & Sweet Potato kibble is specially designed for large-breed dogs suffering from stomach sensitivity. It makes digestion easier and provides all the nutrition your dog needs. Nutro makes sure that their recipes don't have more than 10 ingredients, plus natural flavors, vitamins, minerals, and other supplements. It's packed with glucosamine and chondroitin; two ingredients responsible for good bone and joint health.
What's so great about Nutro kibble is the fact that their recipes are GMO-free, and they are also without corn, wheat, soy, or grains. If your Dalmatian has to be on a limited-ingredient diet, this is the food choice for him.
Every meal should be a good meal. Your Dalmatian deserves only the best, and sometimes, that best is the simplest choice. With Victor Classic Hi-Pro food, your dog will feel how important he is to you.
This dog food features 88% meat protein coming from beef, chicken, pork, and fish meals. Now, meat meals aren't necessarily bad for your dog. In fact, they're perfectly fine as long as you know where they come from. If the declaration clearly says it's beef meal, then you can be sure that it does consist of different parts of beef. It's nutrient-dense and suitable for growing puppies, lactating and pregnant females, and dogs of all life stages. This classic recipe is enhanced with vitamins, minerals, fatty acids, proteins, and amino acids. Your dog will get energy, maintain a good immune system, and have great digestion. Its skin, coat, bones, vision, and brain development will be spotless!
The uniqueness of Victor Classic kibble is its VPRO blend that promotes good digestion and makes this pet food suitable for dogs suffering from sensitivities. If your canine has an achy stomach, then maybe you should switch to Victor Classic Hi-Pro food.
Those of you seeking premium dog food probably already know about Orijen. The Original Grain-free formula is designed for pups that appreciate a good bite. This poultry and fish food will wake up the ancestor's blood in your hound.
The old canines were carnivores. They used to consume the whole prey, meaning nothing was left uneaten. Today's dogs still strive to have such a diet. They enjoy having a whole-prey meal that's both delicious and healthy. That's why Orijen uses only the most succulent and nutrient-dense parts of the prey, including organs and bones. The total count comes up to 85% of high-quality animal ingredients. This brand uses only free-range chickens and turkeys as well as wild-caught or sustainably farmed fish. With the first five ingredients being chicken and fish, we can say that the Orijen Original Grain-free formula will satisfy all your Dalmatian's needs.
What's so great about this recipe is that it uses freeze drying. All ingredients are frozen at the peak of their freshness. The kibble is freeze-dried for a burst of raw flavor that dogs absolutely adore. If you want dog food that your pup will actually enjoy, go with Orijen!
Finding good dog food that will provide a completely balanced meal for your dog is not an easy thing to do. A lot of dog food brands promise that, but rarely any of them deliver. Well, True Acre Foods Kibble sure does deliver extra quality. This simple recipe will prove once again that everyday ingredients can offer premium quality.
This dog food features real chicken as the first ingredient. The recipe is packed with fresh fruits and veggies coming from local farms. Such ingredients support lean muscles and proper digestion. Foods like carrots, peas, and cranberries are rich in natural fibers; thus, helping your Dalmatian with its sensitive stomach. Not only are they rich in fibers, but these ingredients also contain an abundance of omega-3 and 6 fatty acids for healthy skin and a lustrous coat.
The reason why we support dog food brands like True Acre Foods Kibble is because they don't use preservatives or artificial colors or flavors, nor do they stuff their kibble with fillers like corn, wheat, or soy. Such ingredients are big allergens and can only do harm to your dog's digestion. Poor digestion means a weak immune system, and a weak immune system means an unhappy Dalmatian.
When the time comes, your active hound will turn into an old fellow. Yup, the senior years have knocked on the door. With old age comes new responsibilities like more health conditions that require extra care. One of the best things you can do for your senior Dalmatian is to provide dog food with high-quality ingredients. Such food is Canidae Pure kibble for senior dogs.
This recipe is limited-ingredient, and it features chicken, sweet potatoes, and garbanzo beans. Each bag of Canidae Pure Senior food contains only 9 real food ingredients. Senior dogs with sensitive tummies will find this kibble to be quite gentle and easy to digest. Besides, practice has shown that real chicken works wonders for a lean muscle structure, and that's exactly what a senior dog needs. Becoming obese is not an option!
This kibble is even enriched with Canidae's HealthPLUS blend of antioxidants, probiotics, omega-3 and 6 fatty acids, vitamins, and minerals, so your senior pooch is always at the top of its game. The recipe is completely grain free, with no soy, wheat, or corn, so those senior tummies stay calm.
Aging canines are more prone to severe health issues like dysplasias, arthritis, deafness, blindness, etc. Unfortunately, some of these conditions can't be avoided. But, what you can do is find the best senior dog food to ease their pain. Wellness Core Deboned Turkey kibble is not only good for your dog's achy bones, but it's also soul food.
Senior dogs need lots of comfort, and this formula will give them a hug… from the inside! With deboned turkey as the first ingredient enriched with antioxidants, probiotics, prebiotics, and taurine, this recipe will easily become every dogs' favorite! In fact, Wellness Core actually crafted this kibble using advanced natural nutrition. It combines top-notch protein with nutrient-rich superfoods. The final result is a yummy flavor that dogs benefit from. Although it was designed to promote overall body health, Wellness Core especially focuses on a dog's skin, coat, hips, and joints. That's why this kibble is a good source of chondroitin and glucosamine.
Since it's promoted as grain-free dog food, there is no way this recipe will contain corn, wheat, soy, or other fillers. Also, there are no traces of preservatives, artificial flavors, or colorings. Wellness Core knows you want only the best for your dog, and the best is what you'll get!
Going organic in every possible way has become a trend. Well, dogs have hopped on that waggon, too! Did you know that Chewy sells 100% organic dog food? Yes, they do! Check out the Castor & Pollux Organix kibble. Now, the brand may not be as popular as Royal Canin, for example, but it doesn't mean it's not worth it. Just because someone's advertising game isn't aggressive doesn't mean they don't care for pooches.
The Castor & Pollux brand does care! Their senior Organix kibble features no grains or lentils. Instead, it was crafted using only responsibly raised organic chicken without added antibiotics or hormones. Also, items that go into the recipe (blueberries, flaxseed, and sweet potatoes) are free from synthetic fertilizers and chemical pesticides. If the bag says Organix, then it definitely is organic!
The recipe ensures an abundance of chondroitin and glucosamine for well-functioning joints and bones, as well as for a healthy coat and skin. Your dog with a sensitive stomach will be thankful for purchasing Castor & Pollux organic kibble.
It's no secret: freeze-dried kibble is the thing right now! More and more dog food brands have gone "loco" for it. Truth be told, we see no reason why they should skip this dog-food-making trend. Freeze-drying ensures that all the freshness and healthy ingredients get locked inside kibble bites.
Well, the only thing fresher than this beef dog food is the beef at the pasture. This recipe is a limited-ingredient one, featuring only 7 real food ingredients and 100% pure beef. The kibble was designed using beef raised with no hormones or antibiotics. Only organic meat, kidneys, liver, and bones get to make the cut. The Bixbi Rawbble dog food is simple, and yet so efficient for older canines. It's perfectly suitable for dogs suffering from a sensitive stomach, especially Dalmatians.
​You can rest assured that the Bixbi brand uses only USA-made ingredients, and that it supports no corn, wheat, or soy in its recipes. Its dog food is free from artificial colors and flavors, as well as any preservatives. If your dog needs to be on a special grain-free, gluten-free, and high-protein diet, then this kibble should be your choice!
FAQs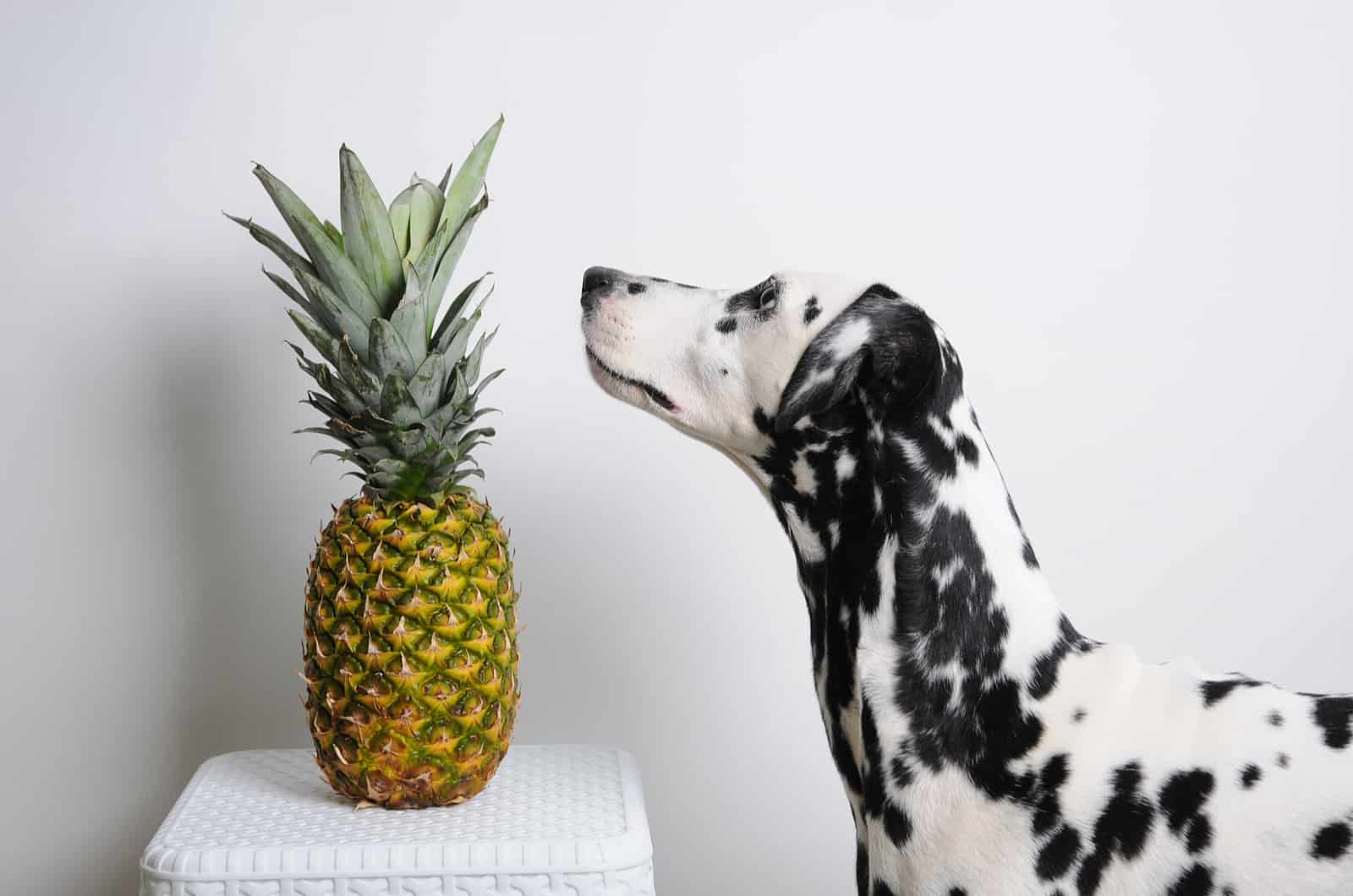 1. What should the best dog food for Dalmatians contain?
Dalmatians need a high-protein diet to keep them active. Proteins can come from either animal or plant sources. For example, great sources of animal proteins for Dalmatians are chicken, turkey, beef, lamb, and pork – while spinach, kale, and other leafy greens are excellent plant protein sources. To satisfy your Dalmatian's dietary requirements, dog food should contain at least 18% of natural proteins.
Moving on, every good dog food should contain a healthy amount of fats. They promote good skin and coat conditions, as well as overall health. If your dog lacks essential omega-3 and omega-6 fatty acids, he may have vision problems or nervous system abnormalities.
Carbohydrates from fruits and veggies give a dog their much-needed energy, and the fibers coming from such sources provide good digestion.
Make sure your dog gets its daily dose of minerals like calcium, potassium, magnesium, phosphorus, sodium, and chlorine, as well as vitamins A, B, C, D, and E.
2. Which ingredients should I avoid?
For your Dalmatian's sake, avoid the following ingredients: gluten, monosodium glutamate (MSG), artificial colors, chemicals, and preservatives.
Gluten acts as a binding agent. Dog food brands use it to create uniform kibbles. Since Dalmatians are often allergic to gluten, you should avoid dog foods that contain gluten.
MSG is a flavor enhancer. To avoid further health complications, avoid declarations with hydrolyzed yeast, calcium caseinate, and soy extracts since they're all a disguise for MSG.
Chemicals, preservatives, and artificial colors all cause allergies, and in some cases, even colon cancer. Synthetic preservatives like butylated hydroxytoluene and ethoxyquin should be avoided because they prevent fats oxidation.
3. Does my Dalmatian need a special diet?
Yes, your Dalmatian will need a special diet since this dog breed is prone to stomach sensitivity. Anything with additional fillers, meat by-products, artificial flavors, and colorings is prohibited. Your Dalmatian needs a grain-free, gluten-free, high protein diet to develop normally and have a good digestive system.
Whole grains and white flour can lead to obesity and raise the blood sugar level way up high. Overuse of these ingredients may lead to diabetes and thyroiditis. Also, they can cause rashes, inflammation, gastrointestinal disease, allergic reactions, and many other severe conditions.
Besides being on a grain-free diet, your Dalmatian must also eat proteins that have a low purine count. Purine-rich dog food contains meat by-products, liver, kidneys, whole wheat grains, mussels, and sardines. Instead of such recipes, choose poultry, beef, lamb, pork, or fish proteins.
4. Which human foods are safe and unsafe for my Dalmatian?
Sure, you can feed your Dalmation food off of your table, but that shouldn't be done very often. Also, you will need to pay attention to what you're giving it. Many human foods can cause severe health problems or even be fatal to dogs.
What you can allow is some fruits and veggies from time to time. For example, your Dalmatian may have brussels sprouts, sweet potatoes, broccoli, carrots, blueberries, cranberries, apples, etc. What you should not feed your dog are certain types of dairy products, especially if he's lactose intolerant, along with junk food, spicy food, table scraps, salty food, and similar unhealthy treats.
5. How many times a day should I feed my Dalmatian?
Dalmatians are medium- to large-sized dogs. In their puppyhood, Dalmatians need three meals a day. However, as they grow up, the meal count reduces to two a day. The ideal amount of food for your Dalmatian is 1 and 1/2 to 2 cups a day.
6. Why do Dalmatians need a low-purine diet?
Dalmatians need a low-purine diet because ingredients with a high purine count may create urate crystals in your dog's urinary tract. In other words, uric acid gets created when the body breaks down purine chemicals. Foods like liver and kidney have big purine counts, while ingredients such as poultry, eggs, and lamb are safe to consume.
7. Which is the best dog food for Dalmatian puppies?
We have lots of great puppy foods on our list, but the best dog food for Dalmatian puppies is the one that suits your puppies the most. We can't suggest only one because some pups may like it, while others may have issues with it. The important thing is to choose only puppy food.
Feeding your Dalmatian puppy adult or senior food won't bring him anything good. In fact, the puppy may even lack necessary nutrients.
Choose low-purine, but high-protein food for your growing puppies. Since they're still little, it's important to hand out small, but frequent meals during the day. The number of meals will decrease as the puppy grows up.