This post contains affiliate links, and I will be compensated if you make a purchase after clicking on my links.
Collars are an essential accessory for every dog owner, but it can be hard to find the right one, especially for small breeds. That's why today's topic covers what the best collars for Pugs are.
Now, dogs are always considered to be family in one way or another, so it's only natural that we want to get the best for them in every aspect, but what makes a collar good?
While most Pug owners and dog owners in general would gladly not even bother with the darn thing, it's a necessity in order to differentiate owned dogs from strays.
Its main purpose, however, is to be able to attach a leash somewhere to restrain man's best friend when he has bouts of aggression, or save him in case he decides to blindly walk into traffic.
Putting dog harnesses into play for leash attachment purposes is a bit different for Pugs, given their breathing issues,, but collars still serve a vital role.
To make finding the ideal collar easier for you, I've taken the time to compile some of the best offers out there on the internet in this article.
Read on to find out what the best collars for Pugs are and what boxes a Pug collar needs to tick in order to be safe for such small dogs.
6 Best Collars For Pugs
First on the list is a lightweight and affordable collar; two words any Pug owner likes hearing.
The light, breathable mesh is a lot more comfortable on your dog's neck, allowing for proper air circulation underneath and reducing the chances of worsening any potential breathing problem that may occur.
It's a better variant than the standard polyester and nylon options in that regard, but it does lose out a little bit in terms of durability.
If your dog is prone to gnawing on his collar often, it might snap.
That, however, shouldn't be that big of a problem if you just keep the collar out of the Pug's reach when you take it off.
The collar also features a tri-glide to help adjust its size to fit your dog perfectly, allowing you to not have to look at precise measurements during purchase.
As the final feature, there's a quick-release buckle on it that makes putting the collar on and taking it off a breeze. It also allows you to act quickly in emergencies should your Pug puppy get stuck somewhere.
If you're looking to personalize your pupper's accessory and turn it into a fashion statement, you have eight different color variants to choose from.
And, as the cherry on top of it all, the people over at Kruz Pet offer a 14-day refund period in case the collar doesn't meet expectations or is faulty.
Next up is a collar that many buyers claim to have the most comfortable fit for a Pug dog… the Masbrill.
Made out of a mix of reflective nylon webbing for added road safety, and padded neoprene for doggy comfort, it's a type of collar that every dog owner dreams of.
On top of its durability, the material is greatly water and odor resistant, meaning it won't retain that wet dog smell, or worse. Plus, it's quick to dry so your Pug won't catch a cold wearing it if it ever does get wet.
To further support that fact, it also has a D-ring and a tri-glide slider to ensure the perfect custom fit for your doggo's neck, reducing the risk of any respiratory issue occurring.
The collar is fitted with a quick-release buckle as well for taking the collar on and off during an emergency with ease.
It also comes in three different colors, allowing a little bit of personalization during the purchase.
The Masbrill collar is quite affordable, too, considering how high quality it is.
The only real downside is that the adjustment range for the slider isn't quite massive, so hopefully, your doggo's head will fit within their collar's parameters.
Next on the list is one of the safest collars for pets out there; the Petsafe KeepSafe Break-Away collar. It's even in the name!
The main reason why I believe it's one of the best collars for Pugs is their patented quick-release system that pops the collar loose if too much pressure is applied on the nylon fabric.
It's a real lifesaver for many dogs, big and small, since accidental strangulation is one of the most common causes of death among dogs, which can occur almost anywhere, from play biting with other dogs to getting snagged on a loose branch.
This may sound like it's a one-time use collar, but the people over at Petsafe have made sure you can use their collars again and again for a long time since you can just reattach the buckle with zero issue afterwards.
The two D-rings on the side allow you to turn the break-away feature on and off in a sense. The collar stays put if the lead goes through both of them, keeping the break-away off, whereas it would be on otherwise.
While not as significant with Pugs given how dog harnesses are the safer option for leads, it's worth noting in case you intend to get a bigger dog in the future.
For those of you who aren't all too interested in the break-away collar feature, the collar still has the standard buckle present if that's your preference.
And, the best part about it all is that the people producing these collars are quite generous, allowing you to swap out a damaged one for a completely new one if you want for a significant discount.
Unfortunately, this option is U.S. only, for those who are reading this outside the States.
The collar comes in four different colors for you to choose from, meaning you can make your dog stand out and display his new fashion statement proudly when walking through the dog park.
One thing to be mindful of during purchase is the sizing chart.
Since you can't really adjust the collar much, you'll be stuck with the size you buy, so make sure it's the one that fits your dog perfectly without adding too much pressure to the dog's neck area.
Here's a unique novelty in the collar world; one that can turn your little Pug into the world's first Star Wars lightsaber dog.
While most collars resort to reflective material to get your dog seen, Illumiseen goes the extra step and upgrades it to bright and colorful LEDs.
It helps your Pug stand out at night if he wanders off out on the street or gets lost somewhere in the woods.
The LEDs are powered by a USB rechargeable battery that lasts up to five hours for one hour of charging when brand new, meaning you'll likely only need to charge it once a week at worst… a small price to pay for your doggo's safety.
The LED even has two different settings; a flashing one for when you want to alert others of your dog's presence, and a steady one that's on by default so that it doesn't bother others.
As many other best collars for Pugs, the Illumiseen is built out of durable nylon webbing and paired with a quick-release buckle so you can take it off your Pug in a second in case of a life-threatening accident occurring.
The nylon keeps it durable so that even the most notorious chewers don't go through it easily, and it's weather resistant, too, meaning you can take it almost anywhere.
The collar is fully adjustable as well, allowing it to grow alongside the dog, or you can adjust it should he lose or gain a few pounds. Therefore, it is always able to provide the perfect fit.
With that in mind, it also comes in six different sizes since the adjustability isn't universal, so be sure to get the one that matches your dog's neck circumference the closest and work from there. The rest should be fine.
Apart from that, you can even get both the color of the collar and the LED in six different color variations, so choose the one you feel complements your pupper's aura the best.
The only real downside of this night-perfect collar that I can think of is the fact that it can't withstand the harshest conditions as it's not completely waterproof, only resistant. So, try not to submerge it underwater on purpose.
But, even then, the collars have a lifetime guarantee so you can get a new one real quick and easy, thanks to the hospitality of the Illumiseen workers.
Another PetSafe entrant, though this time with a simpler, but deceptively clever design.
While it may seem like just a regular nylon collar, the patented Martingale loop helps keep the collar itself loose unless the dog is trying to pull away, in which case, it'd tighten up.
This helps minimize strangulation risks for Pugs and similar small dogs breeds with a neck bigger than its head.
It's perfect for dogs that really like pulling their collars off through different ways, akin to a Chinese finger trap.
Even with this in mind, the collar still provides added comfort through adjustable straps so you can customize it to fit your dog's neck perfectly.
The fact that it's not always tightened gives it another upside, and that's not leaving any matted fur or bald spots underneath it from constant friction.
The Martingale collar comes in a variety of different sizes, too, so don't just rely on the straps themselves to get you through; measure your dog's neck before buying in order to have the best experience and the most comfortable collar option for your pupper.
It even comes in four color variations for you to choose from for that added note of uniqueness, and all for barely any extra cost, if at all.
Speaking of cost, the Martingale collar is the cheapest one of them all, commonly sitting at single digit price tags.
And, should you need any help with anything, the PetSafe staff is on call and ready to assist you six days a week with quick responses and helpful guidance.
However, while this can be considered one of the best dog collars out there, it does have one major downside, and that's the fact that it's quite dangerous to keep on during play fighting sessions with other dogs.
There's another downside of not being great to use as a tie-on collar for large dog breeds since it can get a bit too tight from constant tension, putting your dog at needless risk.
The final entry is a bit of a curious one; the Winchester collar.
While branded as a heavy-duty dog collar to better control your furry friend on walks, its hidden benefit lies in the fact that it's actually a perfectly comfortable and adequate collar for Pugs and other small dogs.
The material used is standard nylon, woven through with 3M reflective thread to help you and other passers by notice your dog should he wander off too far in the dark.
The collar has three different color variations for you to choose from, too, allowing you to complement your Pug's coat color in a number of options.
The breathable fabric is only one of the reasons why this is one of the best collars for Pugs on Amazon and other markets.
There is also a welded-on O-ring that doesn't strain the entire collar if your furry friend starts pulling on it should you choose to leash him.
For smaller dogs, however, it's a great spot to attach an ID tag for your furry friend.
As always, nylon collars are quite durable, and this is no different with the Winchester. Whether it's weather or canine teeth, the item will endure for a long time before starting to fray.
The other standard parts of a good Pug collar package are there, too, namely the quick-release buckle fitted with a safety lock to prevent accidental releases as well as an adjustable strap to accommodate all dog necks.
With that in mind, don't neglect the different size options as the straps only work for a certain range.
When considering price, the collar itself is relatively affordable, and you even get a generous 30-day return period for any unworn collar if you are dissatisfied with it or have gotten the wrong size by accident.
Things To Look Out For When Buying Collars For Pugs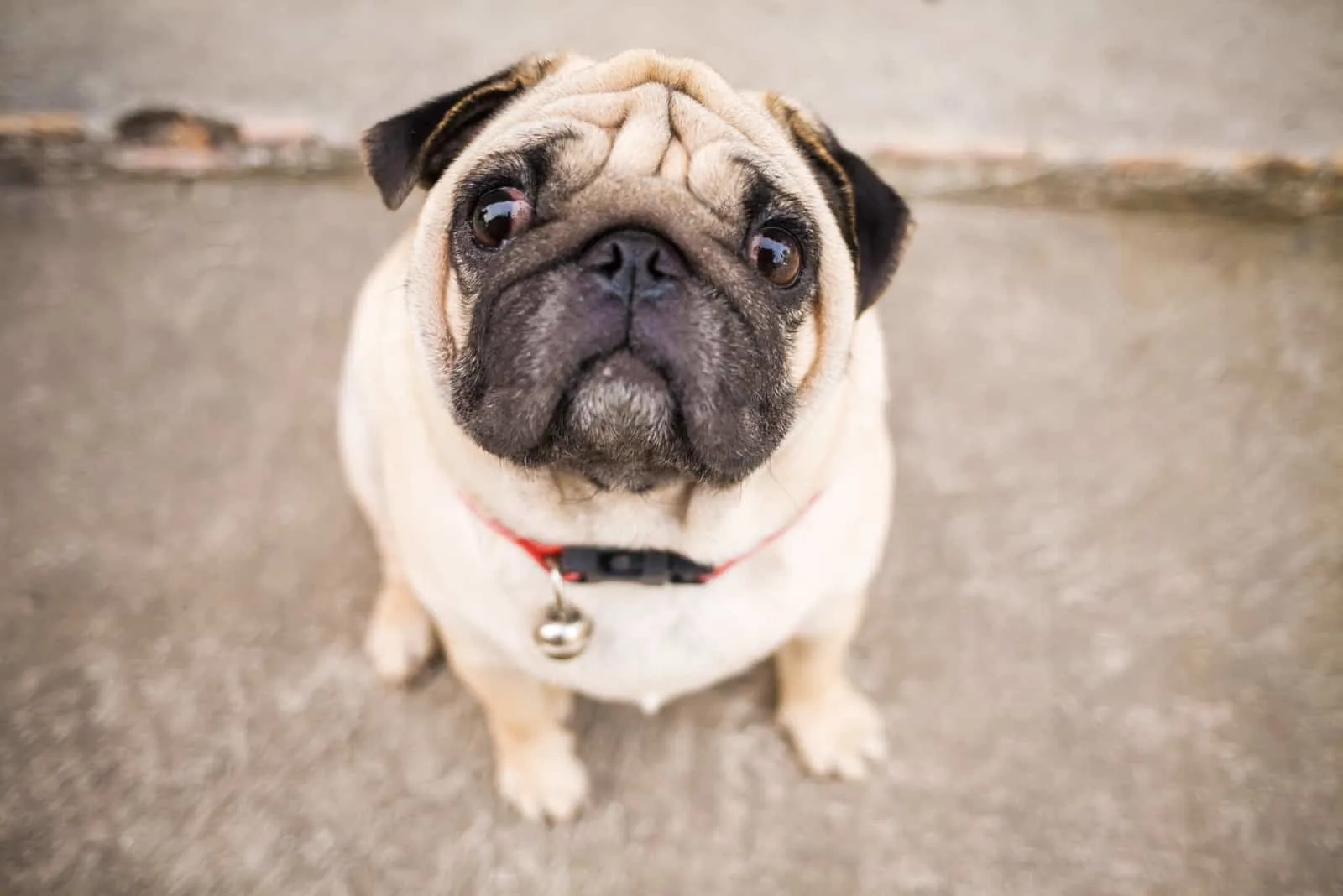 As you may have noticed, these collars have a few common features among them that provide a better quality of life for Pugs.
In case you don't find any of the above to your liking, I'd still like to list these guidelines for you so you know what to look for before you buy.
1. Every collar needs a quick-release or break-away buckle
The reason why this is needed for all dogs, especially for our short-snout puppers, is that dog necks are quite vulnerable, especially for smaller breeds, and they're often compromised with collars on them.
Play fighting is especially risky as well as getting snagged on an object since the constant application of pressure can injure their spine, or worse, lead to a collapsed trachea and potential death; something any dog owner wants to avoid at all costs.
2. Dog collars for Pugs aren't for leashing
While you can put a leash on specific collars that don't put pressure on the whole neck, it's still best to avoid using them altogether as they provide further potential risk for strangulation or risk creating other breathing issues.
3. Use a dog harness for leashing purposes
If you're looking to leash your dog on walks, harnesses are a lot safer for them since they spread the tension over his entire body when tugging at him to guide him. It keeps him safe and secure in more ways than one.
Use the O- and D-rings on the collar to put ID tags on your pupper in case it gets lost. A few specific collars like the Illumiseen provide extra quality-of-life benefits like added visibility on streets or in bushes and the like.
4. Never get choke collars, flat buckles, or prong collars
These are the three types to avoid getting for Pugs since they're always tight and will cause breathing problems for your dog as well as issues with his spine, leading to a poorer quality of life for the poor guy.
FAQs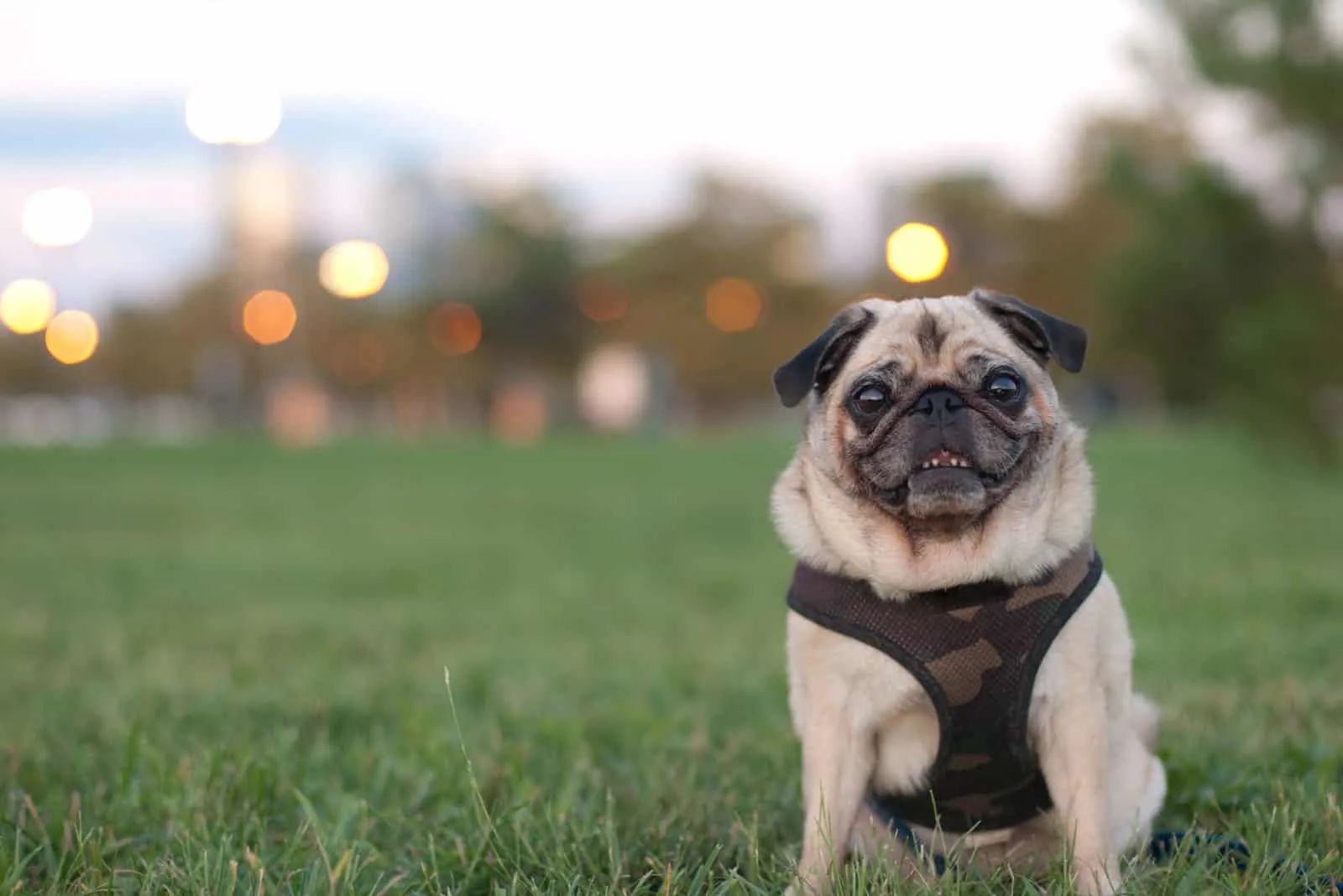 Why are harnesses safer than collars?
While both are perfectly fine for walks with your dog, the latter isn't safe for leashing your dog onto.
The main reason is because Pugs are a brachycephalic breed, meaning they have a short head and a flat face, which leaves them highly predisposed to having breathing issues.
Think of it like dog asthma, meaning any pressure to their windpipe can be dangerous, if not fatal.
Wearing a collar is a risk enough on its own given how it could get snagged on accident, but temporary pressure should be fine… it's the longer lasting ones that are more dangerous.
The main issues that Pugs have to contend with concerning collars are:
• Difficulty breathing
• Spinal disc slips
• Windpipe injury
The latter two are some of the most dangerous should a Pug wear a collar given how prone they are to breathing problems already.
What's the purpose of a collar, then?
Collars are still useful for our favorite little flat-faced friends. The best collars for Pugs aren't meant for walking, but for easier identification and overall visibility.
Most collars have various types of reflective material on them, and the O- and D-rings can be used to attach ID tags on them in case the Pug gets lost.
Finally, it can still be a great fashion statement, helping complement your little friend's already beautiful coat color with something vibrant.
Just make sure to take the collar off when at home or when your pupper goes out playing with his furry friends and he should be fine.
Which collars should I get? Which ones should I avoid?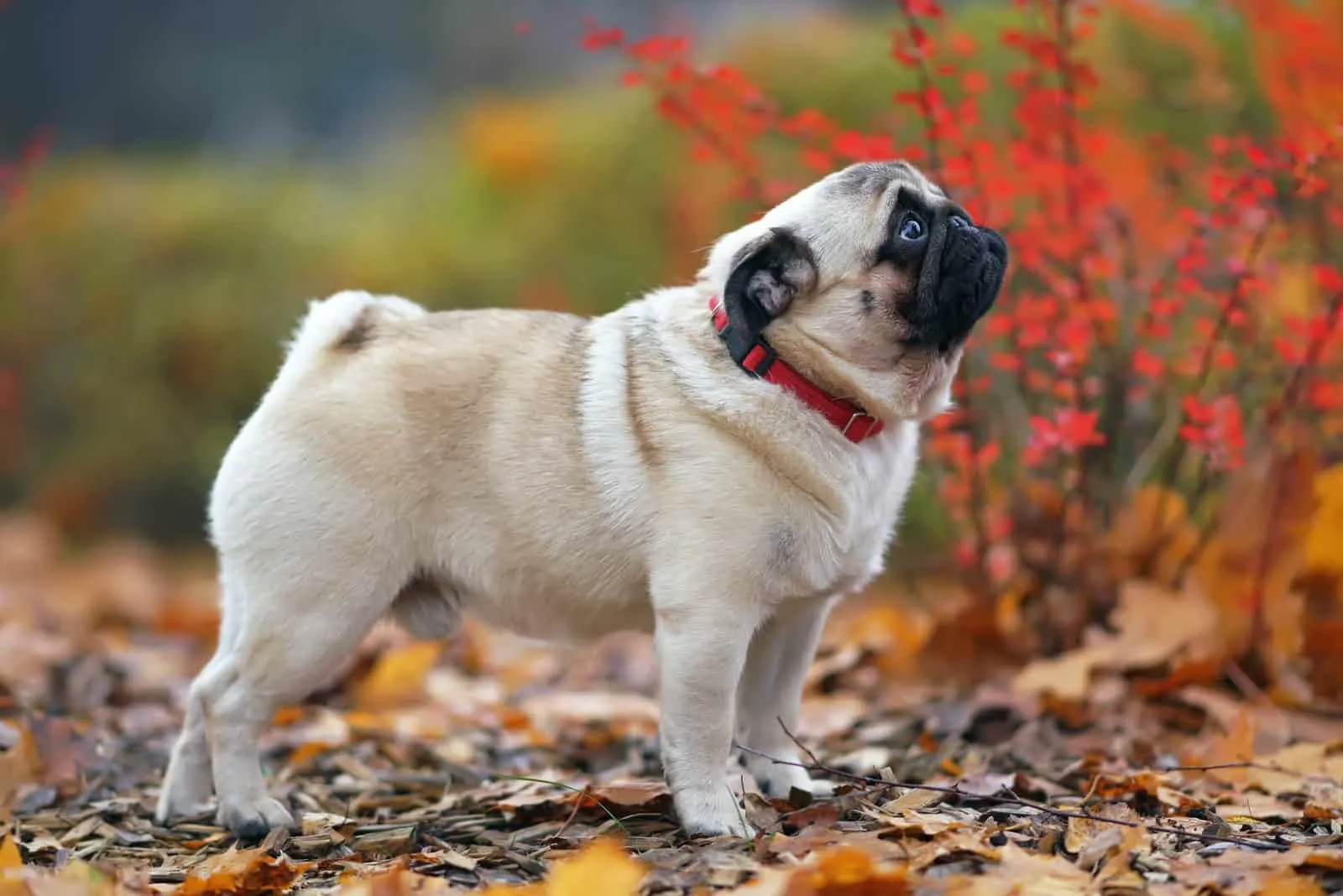 Safety is key when looking for a collar, taking precedence over anything else. If it doesn't cover that one trait, then it's not Pug-friendly.
The two types of collars often seen as safe for use by Pugs, Shih Tzus, French Bulldogs, and the like are the quick-release flat collars, and the break-away flat collars.
The former operates on an easy to unclasp buckle in case of an emergency, while the latter has an automatic unclasping mechanism if too much pressure is applied to the collar.
As for the ones that ought to be avoided, there are three, in particular: The prong, the choke, and the flat buckle collar.
The prong collar is the one that people buy thinking that pain is the best way to discipline a dog, with prongs going into the dog's neck in order to keep him in check.
I can guarantee you that no dog is a fan of that, and it only serves to make him more aggressive or cause him pain. It's even worse for small breeds as it puts them into greater risk of fatal breathing problems or spinal disc issues.
Choke collars are the second worst, and the name speaks for its purpose as they were made to constantly apply a light choking pressure on the dog's neck in order to keep it in line, rather than sharp pain from prongs.
I doubt this needs explanation, but small, brachycephalic breeds like bulldogs and Pugs would develop serious breathing problems with one of those around their neck.
Finally, the flat buckles aren't as inhumane as the other two, but they're incredibly janky when you need to take the collar off in an emergency.
How do you tell what the right collar size for my dog is?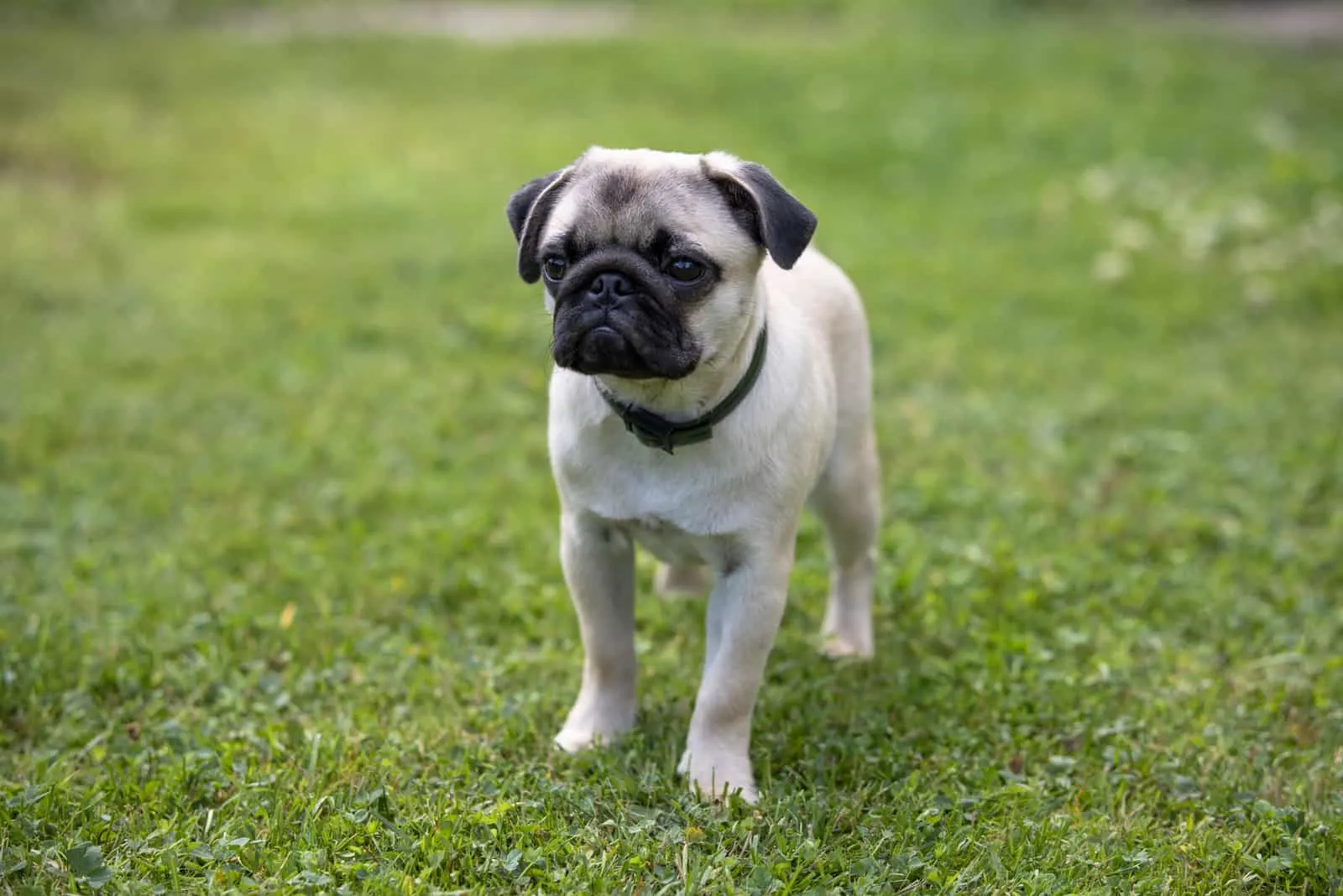 It may seem a bit complicated at first, but just follow the two-finger rule.
Basically, if you can fit your index and middle finger between the collar and the Pug's neck, you've found the ideal size for him. Not too tight, but not too loose either.
While regular sizing charts do help a bit, the fat Pug's neck don't really help the situation, so it's better to rely on this rule instead as you may end up with a larger collar than you previously thought.
Why get a harness for my Pug? Why can't I just carry him in a purse or a pack?
While the latter is an option given proper ventilation, every dog wants to go for walkies to stretch his legs, to mark his territory, and to do his business. Carrying him around all the time defeats the purpose of all that.
But, leaving a dog without a leash or a collar is risky since he can run away or you may get fined for not having him properly labeled. Plus, if he gets lost, he'll be impossible to find.
Harnesses help solve all of those issues, and the best harnesses for Pugs are comfortable, weather-proof, and made in a way that doesn't impede their movement or other actions one bit.
It helps that they're yet another accessory for your dog that you can customize to be an ideal fit for your dog, but they also allow you to leash him without risking any of the potential risks with collars that I mentioned prior.
Oh, and do make sure to get at least two harnesses so that you can wash off the accumulated dirt and odors while your pup enjoys walking around in a fresh set of doggy clothes.
Does the harness or the collar have to be on all the time?
The collar should come off whenever you leave your dog to play with his other friends or when he wants to roam the back yard and you're not in the mood to follow. This way, no surprise branch or similar will put his life in danger.
As far as harnesses go, take it off whenever you're done with your walk.
What material is the best for harnesses and collars?
The three most common options you'll be seeing are leather, polyester, and nylon.
Leather collars are stylish and chew-resistant, but are prone to absorbing bad smells, aren't all that weather-proof, and the good stuff is usually quite expensive.
Polyester is the worst of the bunch. While it's cheap and affordable, it frays easily and absorbs all sorts of nasty smells. Only get these if you're really struggling with your budget.
Nylon is the best of both worlds as it's affordable and durable as well as being easy to wash and odor- and weather-resistant.
In Conclusion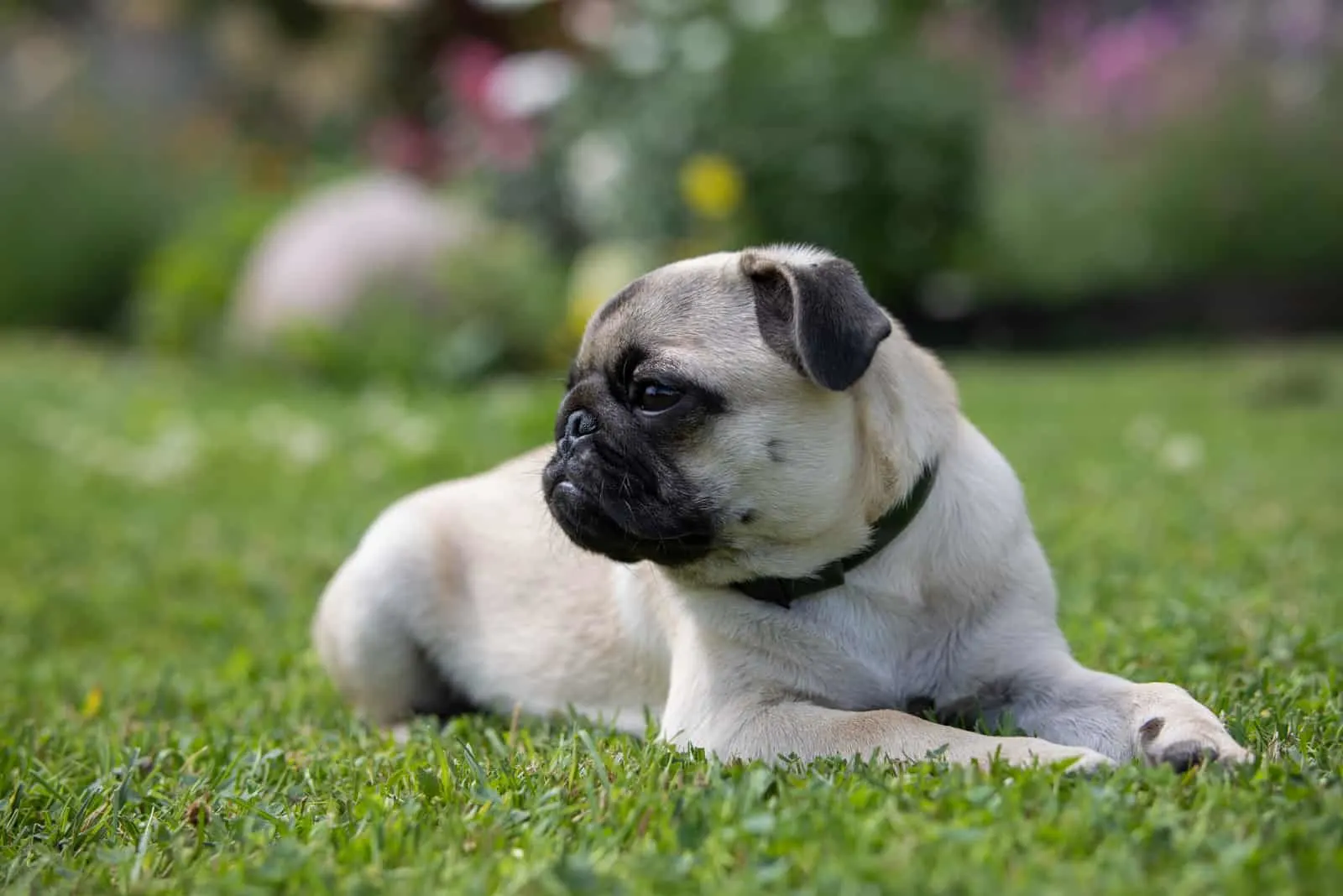 As you can see, this list of the best collars for Pugs offers a good number of varied options. Hopefully, you can find the one you're looking for among them.
If not, I hope that at least the rest of the guidelines assist you in finding the ideal one for your precious little Pug.
Remember to look for ones that cater to your specific breed of dog and your own furry friend's unique needs if he has any.
Above all, follow the two-finger rule to keep your dog's collar at the perfect size, and get a harness if you're going to leash him; otherwise, you will risk putting his life in danger.
Whatever the case may be, I hope that you and your dog continue living a carefree life, and that all your needs are met. Until next time.