This post contains affiliate links, and I will be compensated if you make a purchase after clicking on my links.
What's not to like about Pugs? These adorable flat-faced doggies are some of the most beloved dog breeds out there!
Still, one of the things not many Pug owners expected is the amount of shedding these small dogs can produce.
Some Pugs, such as fawn Pugs, are dogs with a double coat. Their coat consists of a thick undercoat and a short topcoat. This means these dogs can experience high amounts of shedding, and you'll have to clean loose hairs after them – a lot.
Other Pugs, such as black Pugs, have a single coat, meaning their shedding amount is lower. They only have one hair layer, meaning there's less hair to shed everywhere. However, they will still shed, and these hairs will still go onto your clothes, furniture, and floors.
There are even some unusual Pug mixes, such as a mix with a German Shepherd, that will vary in the amount of shedding they experience depending on both parent breeds.
One of the ways you can reduce the shedding amount is to buy one of the best brushes for Pugs.
When you choose a proper dog brush, loose hairs stay stuck in the pins instead of flying everywhere. By brushing your Pug regularly, you'll ensure the shedding amount is as minimal as possible – although there is no way to reduce it entirely.
But when a market is oversaturated with great products sold on Amazon, Chewy, and other similar websites, it's easy to feel confused and indecisive.
This is why I'm here to help you out!
I've compiled a list of the ten best brushes for Pugs for you to choose from. I've also included a buyer's guide so you can know what to look for on your own.
Let's begin!
Best Brushes For Pugs
Before we get into describing each product, here is a quick rating of the best brushes for Pugs, accord to sale websites:
10 Best Brushes For Pugs Reviewed
Getting your hand on one of the best brushes for Pugs can be essential for your little best friend.
Sure, Pugs don't have a long coat that will tangle, but they will still benefit from a good brushing session – and you'll likely be happy to reduce the amount of shedding your dog experiences.
Here are the reviews of the ten best brushes for Pugs:
The Furminator is already a known brand for most dog owners. As such, it isn't a surprise that the manufacturer has some of the best grooming tools for Pugs you can find.
In fact, if you use this dog brush regularly, you can reduce shedding by up to 90%. This is one of the main reasons why it's a favorite among Pug owners.
This brush comes in three sizes, so you can pick the one that will help you brush your dog the most effectively. I recommend taking the small size for a Pug, as anything larger than that might make brushing uncomfortable.
This brush is designed for shedders with a double coat, so if you happen to have a Pug with a single coat this might not be the best brush for you.
Unlike most other shedding brushes, it has rounded teeth, so it won't cause harm to the dog's skin. In fact, it is so good for detangling that it might be too much for most Pug owners who might be surprised to see two rows on their brush.
This brush is a great choice even outside of shedding season, as it can thin a dog's coat, making it a rather useful tool.
According to many, this is the best brush for Pug's coat. It's designed for small, short-haired canines, making it a perfect choice for a pup such as Pug.
This brush is made out of 100% medical-grade silicone, making it safe but also rather comfortable. Its teeth are dull, giving your pup a massaging feeling rather than a regular bushing sensation.
At the same time, the brush does an excellent job in stimulating and distributing natural oils all over Pug's coat.
This is yet another great de-shedding tool that's rather effective for a Pug's thick coat. While it looks like it's nothing but the handle, the short teeth are perfectly designed to pile up loose hair strands.
What makes this dog brush even more unique is that you can use it as a cleaning brush, as well. It can do an amazing job picking up hairs from your furniture and clothes.
At the same time, the teeth are made to protect the Pug's sensitive skin, so you won't harm him with excessive use.
This is just the right brush if you're looking at FURminator products that are suited for regular grooming. In fact, this might be the most effective brush for dogs with a short coat.
This brush can make Pug grooming enjoyable and fun. The rubber teeth will thin out the dog's hair. ensuring your Pug is left with a healthy coat. This high-quality brush will encourage shine as it helps distribute natural oils.
As the brush is suited for both wet and dry hair, you can use it together with a quality dog shampoo for additional cleanliness.
This is an amazing 2-in-1 brush that has soft bristles on one and stainless steel pins on the other side. As such, it's amazing pet grooming brush that's good for both collecting loose fur and keeping the Pug fur as healthy as possible.
As not many Pugs will need pin brushes, this is a great choice to ensure you have one without spending money on it. Not many Pug brushes allow you such a luxury.
Metal pins have safety features to make sure your Pug's skin isn't harmed during the grooming process. Just keep in mind that some of these safety tips might pop-off, so inspect your brush thoroughly before using it.
This is a high-quality slicker brush designed for short-haired dogs. In fact, many consider it one of the best brushes for Pugs you can find.
What makes this brush unique is that it has a self-cleaning design. Not everyone has the time to clean their dog brushes, and this can be a daunting task. Fortunately, this dog brush helps you deal with just that.
The design comes with an anti-slip handle that's very comfortable to the hand. The short pins allow this brush to give your dog a massaging sensation, relaxing him and helping him enjoy the grooming time a bit more.
The brush comes in two sizes: Small and regular. While a regular one might be good enough, I would advise you to purchase a small one, as it can get into the creases and wrinkles.
Kong is a famous manufacturer of various dog supplies, and this includes couple of great brushes. The ZoomGroom one is the favorite of many Pug owners for many amazing features it has.
This is a 2-in-1 brush that can also serve as a dog toy. You can give it to your pooch during playtime to help him get used to it. This might make grooming sessions more pleasant for both you and your pooch.
The brush is water-resistant, so you can also use it during a bathtime. It's a great choice to help you spread shampoo all over your pup, or it can help you achieve additional cleanliness.
Finally, this is a brush that stimulates natural oil production, ensuring healthy skin and coat. To put it simply, it's one of the best dog brushes overall.
You should be able to take care of your Pug no matter your finances, and this affordable brush helps you achieve just that.
This is probably the most affordable slicker brush on our list, but this doesn't mean it isn't good. In fact, it utilizes some unique technologies, such as sporting slightly angled pins for ultimate rushing experience.
The ergonomic handle is comfortable to use and it will fit your hand properly. As such, it will optimize comfort and control, helping you groom your Pug more effectively.
The brush is designed for double-coated dogs, making it a perfect choice for your shedding Pug.
Finally, this might be one of the best brushes for Pugs who hate grooming time. As it's, in fact, a rubber glove with pins, your dog will think you're petting him while you're actually be removing loose hairs.
This brush is made out of high-quality materials so the dog's hairs won't stick to it, even when wet. Also, the glove won't fall off until you want to remove it, so it's safe and easy to use.
Not just that, but the glove is suitable to be used on both wet and dry dog hair. You can use it during a bath time, or simply as a brushing tool.
Due to its design, it can also make it easier for you to pick up items such as bottles, towels, and hoses without them slipping while your hands are soapy.
The brush comes in several sizes, but keep in mind that this item should be sized not by the size of your dog but by the size of your hand.
Types Of Brushes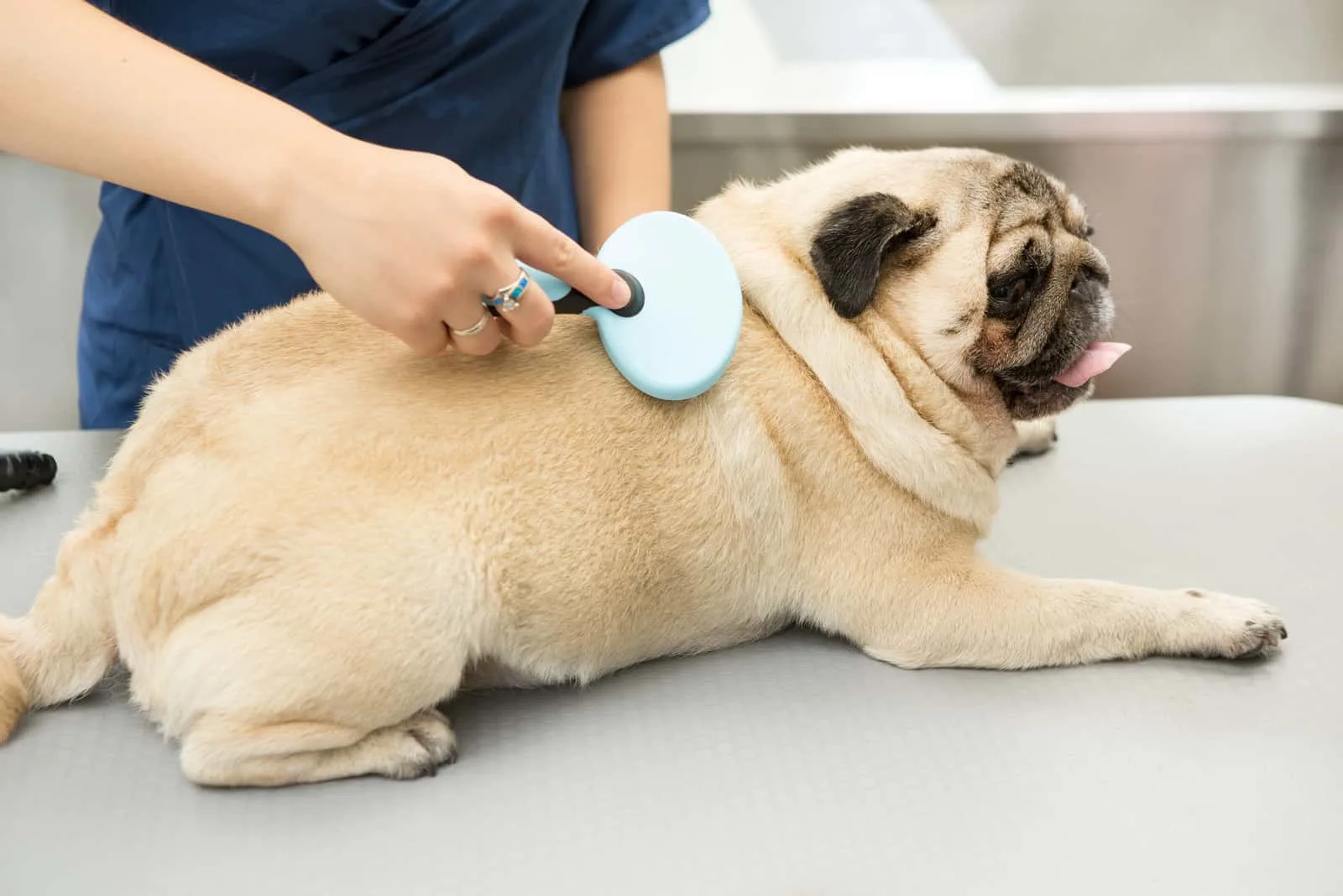 There are several types of brushes out there, most of which are suitable for your Pugs. The type of brush that will work the best for you depends on the features I'll list below, but it's important to know what each brush type does.
At the same time, it might be a good idea to have several different brushes at your disposal. This way, you can choose which brush to use during each brushing session.
Here are some of the types of brushes you might want to use on your Pug:
Bristle Brush
Bristle brushes are a great choice for removing dander and dirt, and they'll ensure your Pug's coat is shiny and healthy. They distribute natural oils evenly over your dog's skin, ensuring he is properly hydrated.
A good option are double-sided bristle brushes. They have soft, synthetic bristles on one side, and harsher, metal pins on the other. This way, you can pick the one you like or switch them up from time to time.
Slicker Brush
Slicker brushes have lots of thin pins that are great for detangling and reducing shedding. While Pugs generally don't have issues with mats and tangles, they could benefit from slicker brushes as they are amazing for picking up dead hairs before they fly away.
Not just that, but many slicker brushes have self-cleaning options. As such, they are effortless to maintain, which is why they are the favorite choice of many dog owners.
Pin Brush
Pin brush is similar to a slicker brush, but its pins are usually much looser, and they resemble human brushes the most out of all other brush types.
Pin brushes are not a common choice for Pugs as they are better suited for long-haired dogs. However, some owners still like to use them.
Grooming Gloves
Grooming gloves, as their name suggests, are gloves used for grooming and brushing your dog.
These are rubber gloves that contain tiny pins, usually also made out of rubber, that you put on, then pet your dog. This will create the illusion that you're simply having one-on-one time with your pup, while you'll be helping them get rid of excess hair.
De-Shedding Tool
De-shedding tools are designed for owners who've had it with their dog's shedding and want a quick solution to their Pug's shedding problem.
De-shedding tools have long, sharp bristles that can reach the dog's undercoat. They cut and pick up any loose hairs, bringing down the shedding amount to the minimum.
However, they are so sharp they can irritate your Pug's sensitive skin. As such, you shouldn't use them often. The best option is to use them once a month, no more.
How To Choose The Best Brush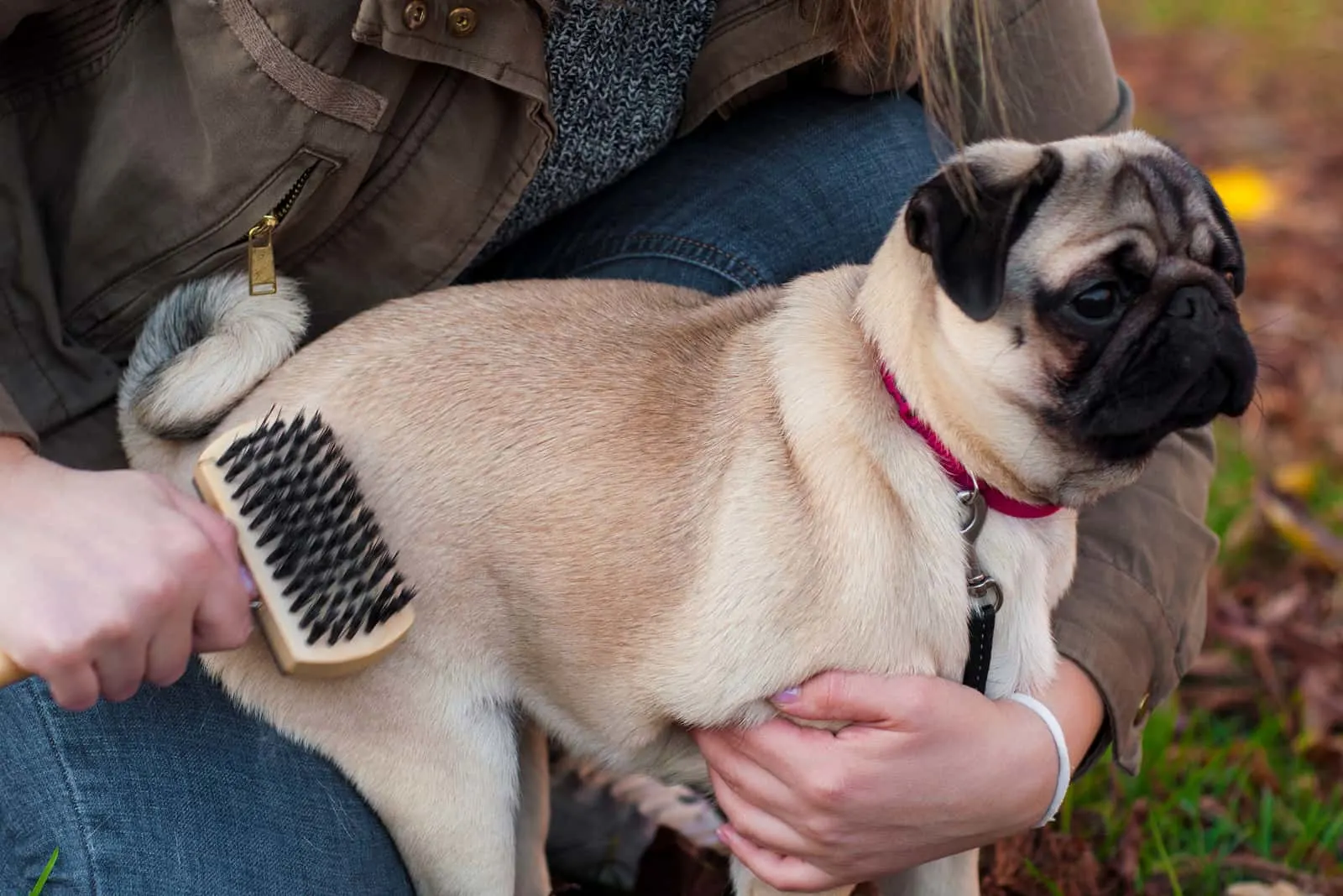 There are a few features you need to take into consideration when choosing the best brush for Pugs.
Of course, it's important to note that each dog is an individual, and what works for someone else might not work for you. Still, if you know what you're looking for, things get a bit easier.
Here are a few things you need to think about:
Do You Want Long-Lasting Results?
Do you want to make sure the shedding amount is as low as possible for a while? Then, you might benefit from getting a de-shedding tool.
A de-shedding tool will help reduce the shedding amount for a while. All you need to do is brush your pooch from time to time to catch any loose hairs the tool has missed. Other than that, the shedding amount shouldn't be high.
However, using de-shedding tool for a long while can cause skin irritations. As such, you should use it scarcely. This isn't a good option for owners who plan on daily brushing.
Are You Ready For Daily Brushing?
If you love brushing your Pug or if you can commit to daily brushing, the de-shedding tool isn't for you. Instead, you will benefit from using a slicker or a bristle brush.
Daily brushing in general is a better choice compared to using de-shedding tools, as it also helps improve the quality of the dog's coat.
Does Your Pug Like To Be Brushed?
If your Pug dislikes being brushed, there's only one thing you can do, and that is to consider using a grooming glove.
A proper grooming glove might keep your Pug from struggling and fighting you, as he'll feel as if you're petting him and not brushing. At the same time, this can calm down an anxious dog and work on creating a bond between the two of you.
If your doggie still decides to fight you, you'll have a protective layer between your skin and his teeth. This can make sure both of you are safe.
FAQs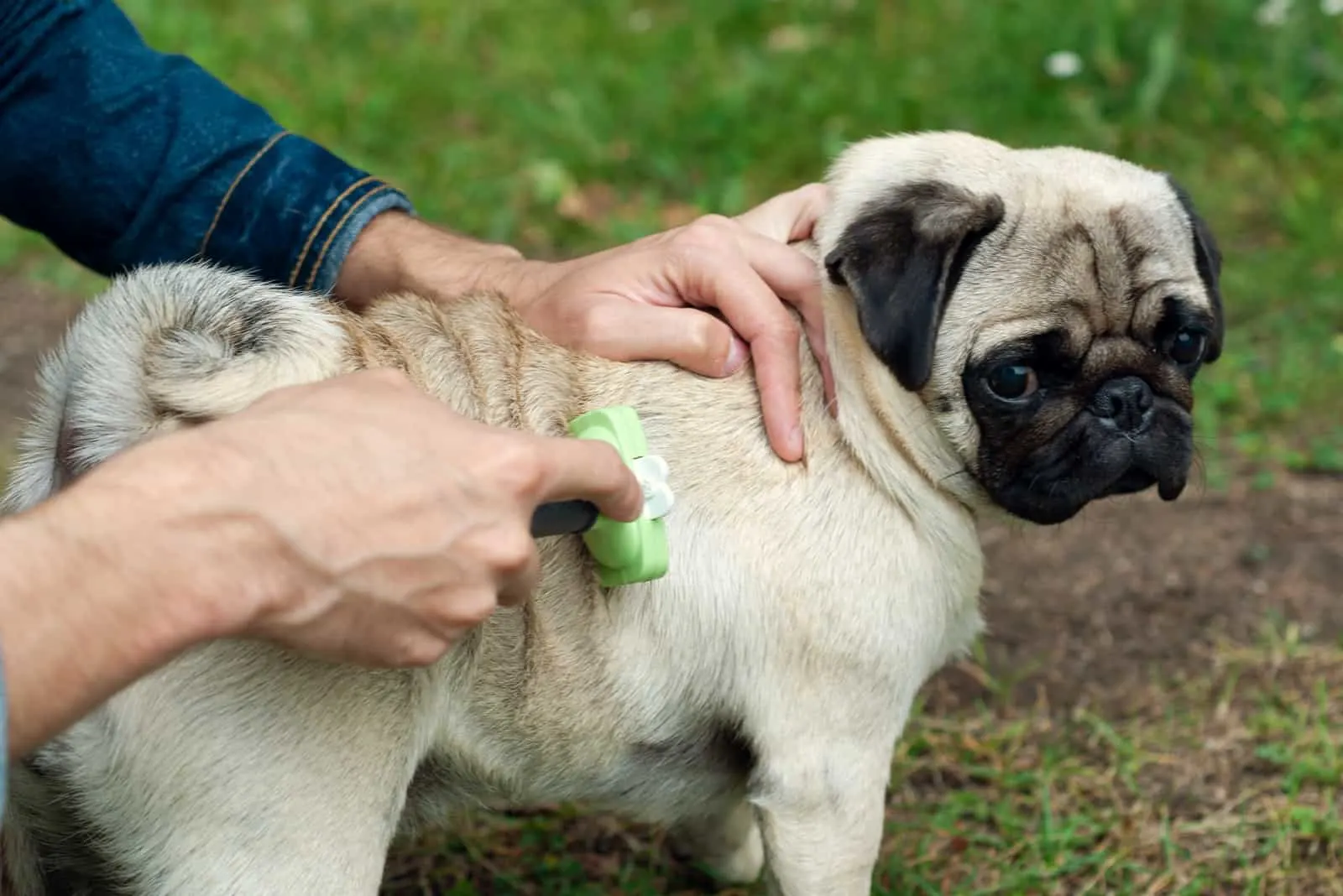 Do Pugs Need To Be Brushed?
Pugs have a short coat. This makes many owners believe they don't require any brushing. However, this couldn't be further from the truth.
Pugs' coat is short enough not to get matted or tangled easily. However, these dogs will shed – a lot. Brushing is a good option to reduce shedding, as brushes will pick the dog's hair before it can fly away.
Brushing is a great way to connect with your pooch. Many Pugs will love having your undivided attention, as you'll have to focus on them and them alone during brushing sessions.
However, not all Pugs fee this way, and many will greatly dislike being brushed. Still, you should try to get them used to this practice.
Brushing has more benefits than just preventing shedding. It will make sure your dog is relaxed and calm, and it will create a strong bond between the two of you.
So, while technically not necessary, brushing is the only way to reduce the shedding amount, and it can be very beneficial for your dog's physical and mental health.
How Often Should You Brush A Pug?
As Pugs are double-coated dogs, regular brushing is the key to keeping their coat looking its best. Still, they won't require as common brushing as some long-haired breeds – even though you can also find long-haired Pugs and French Bulldogs.
In general, you should brush your Pug at least three times a week. If you can manage to brush him daily, this would be the best.
Remember that brushes with sharp, metal pins can damage your dog's skin, so you need to be very careful about products you plan on using daily.
Are Pugs Hypoallergenic?
Let's make things very clear: There is no such thing as a hypoallergenic dog. What's giving you issues isn't the dog's hair, but rather dander, saliva, and urine, substances all dogs secrete.
However, some non-shedding breeds, such as Poodles, can be allergy-friendly. Dog's hair is the main way in which allergens get spread everywhere. As such, if a dog doesn't shed, allergens cannot easily reach your nose, mouth, and eyes.
With all this being said – No, Pugs are not hypoallergenic dogs. They are not only shedding, but also tend to drool. In fact, they can cause rather severe allergies, so I wouldn't recommend them to people struggling with dog allergies.
People with mild allergies will likely be fine. However, it's still important to be cautious and try to spend some time with the Pug breed so you can be certain these dogs aren't causing you any issues.
Sadly, if your allergies are triggered by Pugs, there's nothing more you can do. However, you might want to try some hypoallergenic needs, such as Poodles or Shih Tzus.