This post contains affiliate links, and I will be compensated if you make a purchase after clicking on my links, at no extra cost to you.
Bone broth is something that was often fed to us back in the day by our parents and grandparents alike as the cure-all for any disease.
While that may not necessarily be true, it turns out that it is a pretty good source of nutrition for dogs, which helps fix many of their health issues, but what is the best bone broth for dogs?
While there is no de-facto best broth, some of the better ones will usually avoid ingredients that act as common allergens like dairy products or various grains – something that a lot of store-bought broth often tends to carry as a filler.
Thankfully, with the internet evolving into what it is today, there's a much wider and healthier selection on offer on various online marketplaces like Chewy and Amazon.
But, as always – there's only one that'll fit your dog, and that's what we're here to find today.
Finding the right option between so many can be a daunting task – a task that I often take upon myself to curate some of the best options out there into a more digestible list in order to make it easier for you to pick and choose the right one for your darling doggo.
However, do note that this isn't meant to be the main meal for your canine companion, but rather a supplement of various nutrients alongside a regular diet.
You can serve it standalone or mix it in with wet food or even kibble – experiment to see if your dog takes to any of these mixes, but always remember that it's not a replacement for actual food.
With that in mind, read on to find out which bone broths made the cut as well as find out answers to some of the more frequently asked questions regarding bone broth for dogs in general.
9 Best Bone Broths For Dogs
The first pick on the list is Brutus Bone Broth for dogs – one of the more exceptional bone broth options out there that does wonders to help boost a dog's immune system.
It's a product made with all-natural ingredients that's even adequate for human consumption.
One of its main beneficial ingredients is turmeric, which is great in helping prevent gut inflammation.
However, there are other beneficial ingredients like chondroitin and glucosamine – well known nutrients that help support better hip and joint health, which is crucial, especially in older dogs of large breeds.
Aside from that, the amino acids present help bolster a dog's immune response to various diseases, strengthening the immune system overall.
Naturally, there are plenty of other essential nutrients and minerals in there, too, that help supplement a standard diet in case of any deficiencies that need to be made up for.
Unlike most of the store-bought stuff, Brutus Bone Broth for dogs is also completely free of any GMOs, ensuring your dog receives an option that's as healthy as it can be.
This also means that there are no artificial colors, preservatives, or flavors.
And, as mentioned at the start of the article, good bone broth doesn't contain any common allergens like dairy products, wheat, soy, or gluten – none of which this broth has, making it an ideal choice for allergy-prone doggos.
It's also fully gluten-free in case you have a dog who's sensitive to the stuff.
It's an excellent choice to add to dry food in order to make it softer and easier to digest, or as a form of gravy for wet food in order to enrich the flavor palate of your furry friend's meal – something he's sure to enjoy.
Oh, and if you're worried about it adding too many calories to your dog's daily diet… don't, as it's a relatively light addition, coming up to a mere five calories per serving so you can administer it guilt-free, though still practice moderation when it comes to smaller dog breeds.
As far as pricing is concerned, it's on the more expensive side in terms of bone broth costs, but it's well worth it as a more deluxe item.
The thing I have against it is the relatively simple-looking design of the packaging, but that doesn't impact its overall quality.
Next up is a familiar brand, The Honest Kitchen, with its own entry into the tasty world of bone broth for dogs – an oddball to throw into this list a bit early.
Taking out the middleman between broth and kibble, this product has already been roasted in bone broth, providing pet parents with an easy-to-dispense, healthy treat for their dear pets.
This is a product that is made in the USA, meaning buying it helps support a local brand rather than an international one.
Each treat is filled with a variety of rich flavors and ingredients like sweet potatoes, parsley, and pumpkin that pair very well with the flavor of the beef bone broth that no dog can resist.
All the treats were baked in small batches in order not to mix flavors around too much, and to provide a crunchy texture.
The product itself also contains no common grain allergens like soy, wheat, or corn, nor does it have any fillers or by-products that inflate the calorie count.
Speaking of which, each treat comes out to about seven calories per treat, so try not to go too crazy if you're giving this to a smaller dog breed.
Finally, the treats contain no artificial preservatives, and are completely GMO-free as the people at Honest Kitchen value safety and quality for your canine companion.
As far as costs go, it's about average, but the quality still remains superb so I'd give them a try if you want to avoid the potential mess of standard bone broth while still retaining most of its good qualities.
The one thing that many users take offense to is that the treats appear to be too hard in some batches, so do be on the lookout for that should you get a pack.
Going back to the more traditional stuff is a product from the same brand, but in the standard format – The Honest Kitchen bone broth for dogs.
This comes as a great addition to your dog's overall diet, with turmeric being a great option for both a dog's coat and its skin health, along with pumpkin to aid in digestive health by helping reduce gut inflammation.
It's chocked full of all the essential vitamins and nutrients that one seeks bone broth for, and it makes for a great additive to any form of dry dog food, though its best use is to hydrate a dehydrated meal from the same brand.
The ingredients are all natural and human-grade, meaning it is safe for consumption for dogs and humans alike as well as being food that's held up to higher standards of quality than the usual brand of pet food.
It's a fully U.S.-made product, too, albeit it does use globally-sourced ingredients. Not to worry, though, as they've all been tested for safety, and only come from trusted providers.
It has no GMOs or preservatives, nor does it contain any common grain allergens.
It also has no fillers or by-products in it, coming in at a modest 13 calories per packet, which isn't too bad for a serving of broth, though there are lighter options.
As always, do be careful if portioning it for smaller dogs as 13 calories is a sizable difference for them.
If you're serving it alone, it's pretty easy to make. Just dump the bone broth powder in a bowl, douse it in warm water, and you get instant broth.
The same works if you're doing it with kibble, though I recommend making the broth first, then pouring it over the kibble after.
It is on the average-ish side of things, if not hinging on the slightly pricey option, but overall, it's a good deal.
If beef isn't your thing, there's also the turkey bone broth option if your dog prefers that one more.
If you're looking for more of a budget option, then you may have hit a Solid Gold opportunity here.
This affordable food topper uses chicken bone broth as its base compared to the previous options, allowing for a bit of a mix-up and a better, more neutral base that won't clash with the flavor of the kibble as much.
This, in turn, allows it to still be the star of the dish, with the broth there to enhance it all, especially when paired with gentle herbs like chamomile and lavender, which only serve to enhance the existing flavors to their maximum.
All of the ingredients are all natural and human-grade, as is the case with any bone broth that dares to call itself the best. There may be few ingredients, but the simplicity of the mix is what provides that enhanced aroma that boosts any meal to new peaks.
Aside from that, it has some important nutrients and vitamins like collagen, which is key in maintaining strong joints and bones as well as aiding in improving overall gut health.
It comes in at 85 calories per pouch, which isn't that much when you consider that the regular serving only recommends 2 spoonfuls of the stuff.
And, unlike other broths, it comes in a resealable pouch that's easy to carry around compared to the large cans that other broths come in. Do remember to shake it before serving it, though.
And, as mentioned earlier – price-wise, it's a complete steal – a great option for the budget-savvy dog owner who wants to save a little money without compromising on the overall quality of the product.
That said, some users have reported that the broth doesn't sit all too well with dogs with more sensitive digestive systems, so do keep an eye on anything of the sort when giving it to your own doggo.
Our next entry comes from another contender in the bone broth bracket – Nature's Diet, with their broth specifically tailored to improve skin and coat health.
It's made of a beef bone broth base, with a bit of added chia and flaxseed – both great sources of omega-3 fatty acids that help reduce skin irritation and provide a strong and lustrous coat.
The product also contains collagen, which, as mentioned before, is a great aide for improving joint and bone health, which is a crucial aspect for larger dogs suffering from health problems related to the two.
The product is fully made in the USA, with local ingredients, meaning they meet all the U.S. safety standards, ensuring high-quality broth.
The mix comes in a powder form that you just have to hydrate by using some warm water to get your desired broth. This makes it very easy to carry around and use without much risk of spilling.
And, because it's in powder form, it means that storage is a lot easier, and you don't have to keep the thing cool or frozen to preserve it.
The broth itself has no artificial additives or preservatives, nor does it have any added salt, which all ensures your dog's health the best it can.
It's a bit heavier on calories than most other options, with 24 calories per tablespoon, so you may want to properly portion it if you're adding it to food for smaller dog breeds.
Price-wise, it comes up on the more expensive side of things. While not as expensive as some of the other options on this list, it's still up there, which may dissuade some buyers.
Other than that, it's a fantastic choice for dog owners who want to help keep their dog's coat healthy and shiny.
Next up, we have Native Pet's entry to the bone broth gauntlet, with their own powdered version of it.
It uses beef bone broth as a base – a standard for many of the other competitors on the market due to the added flavor, which makes kibble more attractive to dogs that normally stay away from it.
It contains plenty of the essential nutrients and vitamins for a dog's daily intake, albeit it's still considered only a supplemental source.
A key protein in the mix is collagen, already mentioned in some of the other options as a good way of maintaining strong bones and healthy joints in all dogs, especially older ones and larger dog breeds that often have issues regarding bones and joints.
The collagen also helps improve digestive health, helping deal with some relevant issues on that end.
It also contains a good amount of calcium, which also improves joints by strengthening them and reducing inflammation that can flare up in them.
The important thing is that it lacks any common allergens, meaning it's completely dairy and grain free.
It also doesn't contain any artificial preservatives or other unhealthy ingredients that could tarnish its quality.
Because it comes in a powder form, it's easy to store as long as it's kept in a dry place and has a relatively long expiration date.
Calorie-wise, it comes in at 27 calories per tablespoon – once again, maybe not a lot for large dog breeds, but it's not a negligible amount for smaller dogs, so be careful about scaling the dosage down.
The product is pretty pricey, though – one of the more expensive on this list, but it is a luxury option if you can afford it and if your doggo likes it. I guarantee that you won't be disappointed.
The other thing that I dislike about it is the packaging – once again, it feels too bland, and a bit more effort could be put in for a price tag this high.
Merrick is another well-known doggy brand that provides quality dog food, and their bone broth is no exception to this rule.
While turkey isn't the only option, I figured I'd highlight their highest-rated option and diversify a little between the many beef candidates on the list. After all, turkey is another staple for quality bone broth.
This one is made entirely in the USA, specifically in Hereford, Texas.
The product is fully human-grade bone broth, too – passing higher standards than regular food and proving it's even safe for human consumption, not just for dogs.
Aside from the turkey in the base, its flavor is further enhanced through cranberries and pumpkin, as well as ginger and parsley, creating a flavor bouquet akin to that of Thanksgiving through the use of these superfoods.
Turmeric and ginger are also present, alongside cinnamon – each of them making for great sources of the essential ingredients and nutrients necessary for daily intake in dogs.
The most notable of them are the amino acids, which help improve the overall immune system.
As with any decent product, this one is completely free of any fillers that would add to the calorie count unnecessarily, and it is also free of any artificial flavors and colors.
As far as calories are concerned, it comes in at about 26 calories per cup, which isn't an awful lot, but again, it should be scaled down adequately for smaller breeds.
It comes in a nice, resealable packet, too, that you can close up after pouring, making it a lot easier to store than some other options.
Cost-wise, it's on the cheaper end of things, especially when compared to a lot of the other options on this list.
The only blemish to this otherwise stellar option is that some dogs simply don't like the taste, but that's common with almost every food-related item for pets. Hopefully, your doggo is one of the ones that adores it.
For something with a bit of a free-range feel to it, Castor & Pollux has you covered with their Grass-fed Beef Bone Broth.
The broth is made here in the USA from the cooked bones of locally-sourced, free-range cattle, paired with turmeric as a flavor enhancer, providing the highest in quality with regards to ingredients and flavor for your darling doggo.
The product is free of potatoes, gluten, and any grains like soy, wheat, or corn in order to make it safer for dogs with a more sensitive stomach.
It contains no artificial flavoring, preservatives, or color, ensuring a healthy product for an even healthier dog.
This is a delectable meal that's only 25 calories per carton, making for a decent low-calorie additive to dry and wet dog food alike, or a standalone snack if you so wish.
Though, because the cattle are free range, the price is definitely something, making this somewhat of a big-ticket item – a luxury to only get every now and then if you can afford it.
Last on our list is this great package deal of three different bone broth options from Nulo, allowing you to choose between beef, turkey, or chicken flavor, and providing a little bit of variety in your doggo's meals.
And, they're not just thrown together haphazardly either. No… each of them is simmered in a slow cooker for about 10 hours so all those bones release those wonderful nutrients from the marrow and provide your furry friend with the nutrition he deserves.
The said mix is further enriched with turmeric and apple cider vinegar, providing a few extra layers of flavor as well as health benefits like improved joint strength and reduced gut inflammation.
Collagen is present, too, which also improves digestion and makes joints and bones more durable.
The entire product is made from all-natural ingredients so you know it's quality stuff with no artificial flavors added.
Depending on the flavor option you go for, you'll get different caloric content, with chicken being the lowest (at 10 calories per carton); turkey going up to 20; and beef with the highest (at 30 calories per carton).
As far as price goes, for a 3 pack, it's relatively decent – teetering on the pricier side of things, but you get more than enough with everything included.
That said, despite the variety in flavor, there are some canine companions that will simply refuse to eat any of it regardless.
Things To Know Before You Buy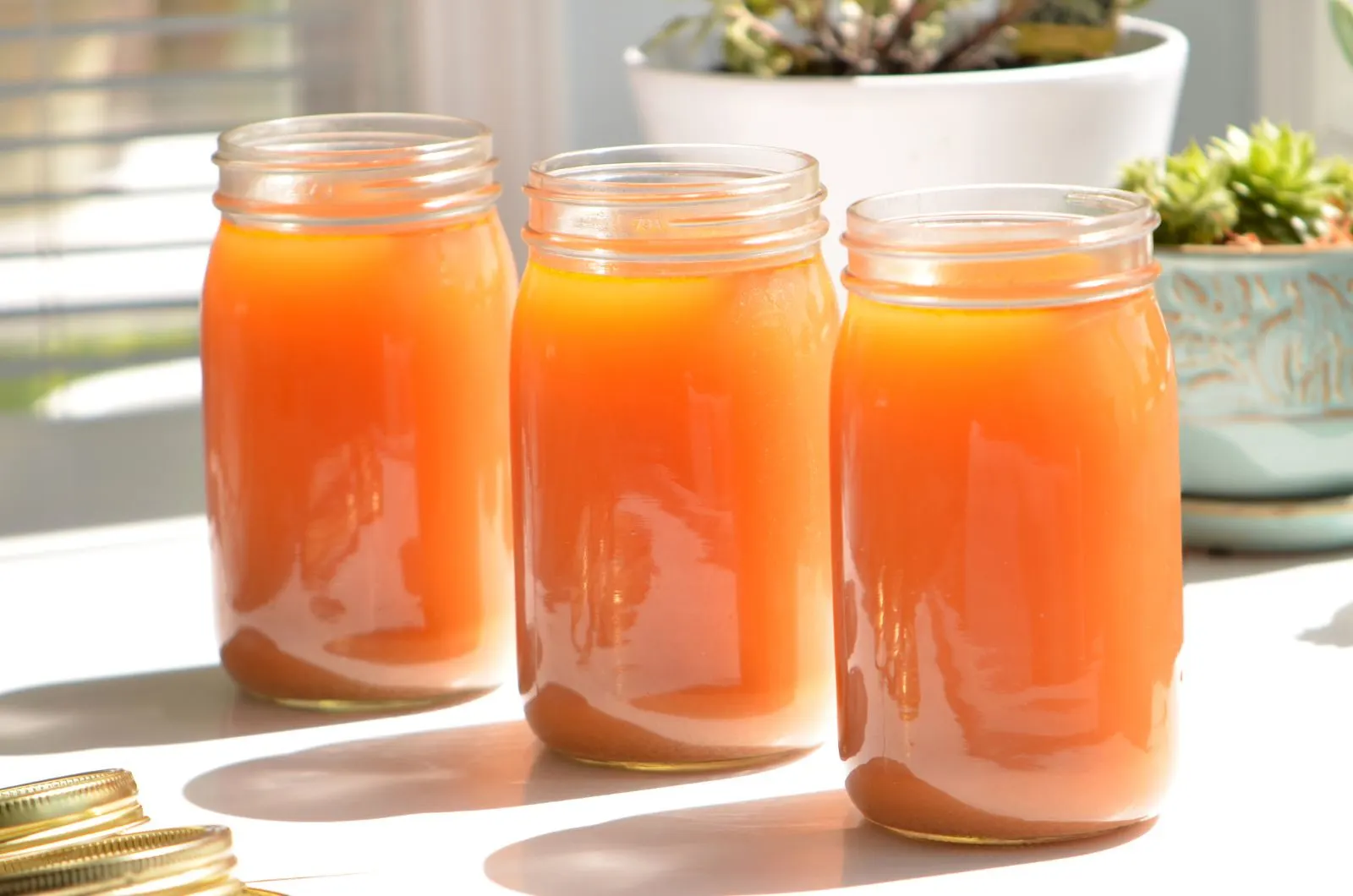 With all of those wonderful options listed, hopefully you will be able to find the right option for your dear doggo to get a little bit of extra healthy flavor to his daily diet.
However, it's completely understandable if you haven't, as every dog is as unique as every dog owner, so some of these simply may not have hit the mark.
But, you can pool all of the good traits that repeat in a good number of these options to find your ideal bone broth online if you choose to look them up yourself.
Here's what you need to be on the lookout for:
Stick To Local Ingredients If Possible
Most ingredients sourced internationally don't adhere to the same safety standards as the ones sourced in the United States, so finding pet bone broth that comes from local ingredients is likely to be a lot safer for your canine than the alternative.
This is especially true for any Chinese-sourced ingredients as they've been known to be of either low quality or extremely artificial in nature, making them a major health hazard for your canine companion.
If anything, stick to organic bone broth or anything that reads as 'made from human-grade ingredients' since they adhere to a higher level of safety tests than pet food does.
Rich In Nutrients And Minerals
While bone broth is usually used as a supplement, you want the said supplement to actually be beneficial for your doggo if you plan to use it often, rather than just being a set of empty calories.
Look for ones that provide benefits that help your dog out with his health issues if he has any.
For example, chondroitin and glucosamine are great nutrients to have if you own a senior dog or a large-breed dog because they boost joint and bone health. Glycine helps maintain lean muscle mass.
Alternatively, always make sure they contain some source of omega-3 or 6 fatty acids like flaxseed or fish oil as these are essential for a dog's coat and skin health, helping to prevent irritation and keeping the hair follicles strong.
Low Sodium Content
Another trait of a good bone broth is a low sodium content. Salt can be pretty dangerous to dogs in larger amounts so you should be careful when purchasing, and consult with a nutritionist or your pet's veterinarian on the amount allowed for your dog breed.
FAQs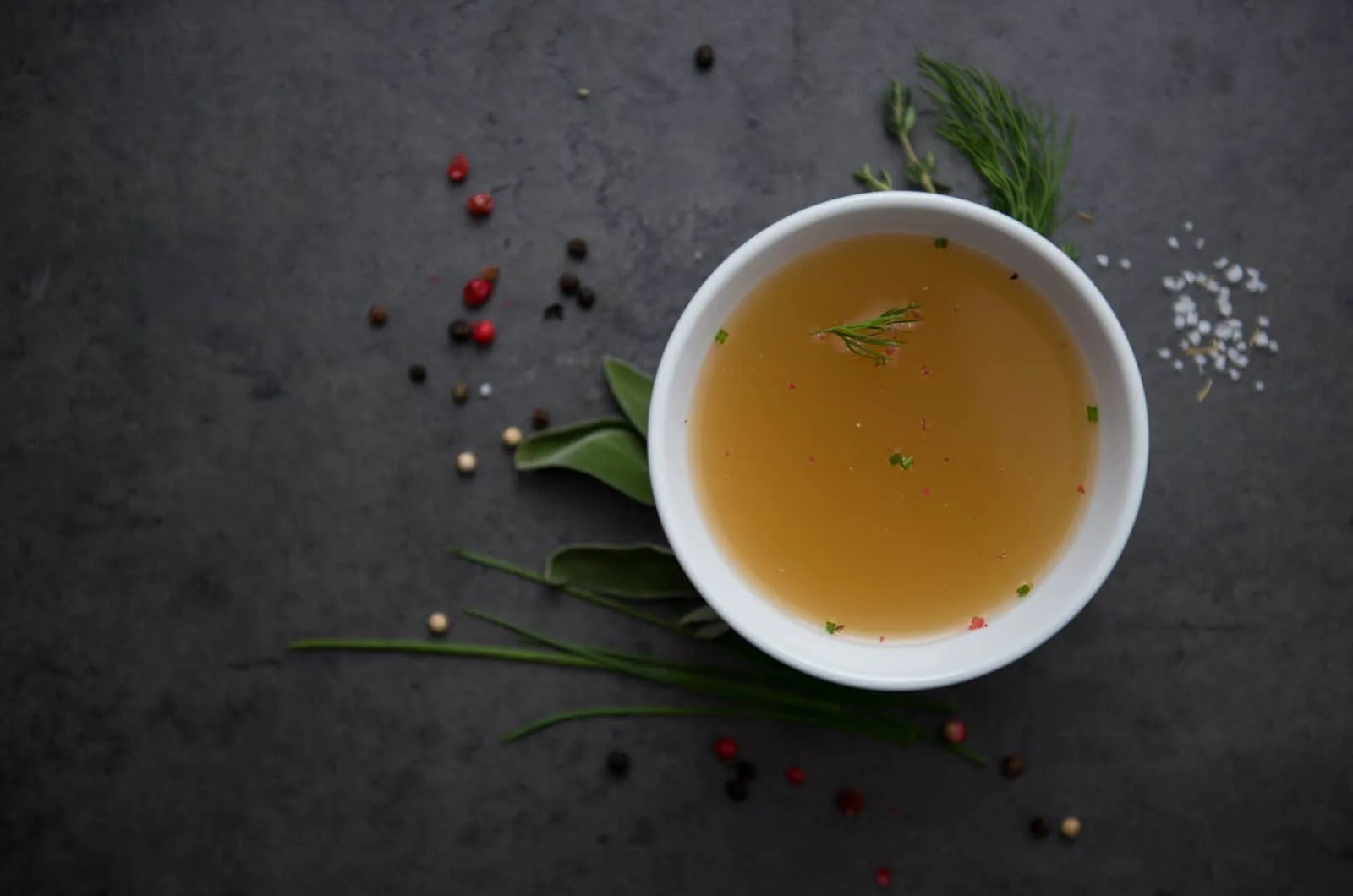 What Are The Benefits Of Bone Broth For Dogs?
While this depends on the type of bone broth, the general benefits revolve around better skin and coat health, usually by reducing skin irritation and keeping the fur strong and shiny.
Some focus on maintaining the strength of a dog's joints and bones while others focus on improving a dog's immune system or overall digestion.
There are plenty of benefits to choose from depending on the broth, and even some that have all of them, albeit they tend to be quite pricey.
Is Bone Broth Good For Dogs?
It is, as it helps them supplement potentially deficient nutrients or deal with an upset stomach.
Usually, it's extremely nutritious and a great addition to a dog's diet, even for picky eaters.
You can either buy it online or stick to a homemade bone broth recipe, but do be careful on how much bone broth you feed them as it can be detrimental to their body weight if you use too much.
Can I Use Store-Bought Broth For Dogs?
You most certainly can, though make sure it also complies with the adequate rules, and that it's of good enough quality not to risk your dog's health on account of negligence.
In Conclusion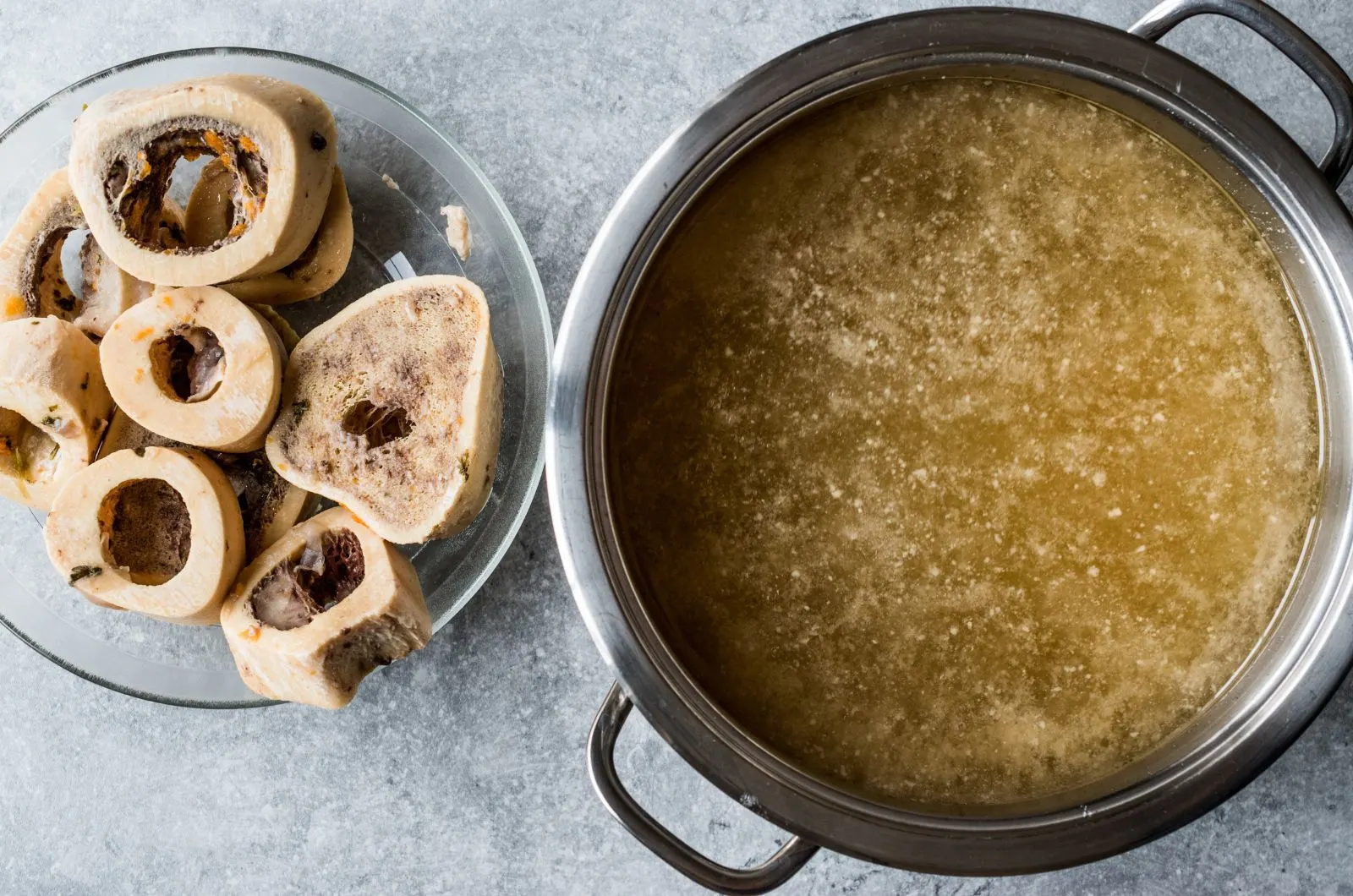 The best bone broth for dogs depends on your canine's needs. It's by no means a necessity to have, but it's great for providing variance in your dog's diet with new flavors.
Whatever the case may be, I'm sure you'll find the right one for your canine companion.
Until next time.
RELATED LINKS:
– Dog Throwing Up White Foam: Upset Stomach Or Something Else?
– How To Soften Dog Food. 8 Best Solutions That We Picked For You
– What To Feed A Sick Dog With No Appetite: We Are Here To Help You