We are not aware of how fortunate we are for having all five senses. Losing one of them is a personal tragedy, and living with an impairment can affect the entire family.
But, only those who are actually impaired in some way really know what it's like.
While physical impairments are the most common ones, there is another impairment that's quite common, and also quite severe. I'm talking about visual impairment, which includes complete or partial blindness.
Besides helping human hands, there are other living beings that can offer love, help, and support to those who either can't see or can't see very well.
Yes, those are dogs, and today, we will remember the pioneer of all seeing eye dogs, Buddy, also her buddies, and shine the spotlight on the importance of these service canines.
Back To The Past: The Idea Of Seeing Eye Dogs
The idea of seeing eye dogs is fairly young. Buddy, a smart female GSD, was technically the first official seeing eye dog. However, we can't be certain if dogs were used as guides sometime in the past. We have no proof of it.
But, we do have proof from the papers when the modern, twentieth-century men came up with the idea of using dogs as help for blind people.
When Morris Frank, a blind man in Nashville, heard they were training dogs to assist blind WWI veterans, he felt the world was about to change. Being so impaired meant that Morris suffered significant difficulties in his daily life.
He needed help, and so did numerous blind people in the States.
One confident letter and one year later, Morris Frank returned from his trip to Switzerland. He brought along not just his suitcase and his dog; he brought an idea, a vision, and the knowledge to train dogs as seeing eye animals.
Soon enough, The Seeing Eye was founded and hope was born. Morris' goal was to give every blind person the same gift of freedom like the one he received from Buddy.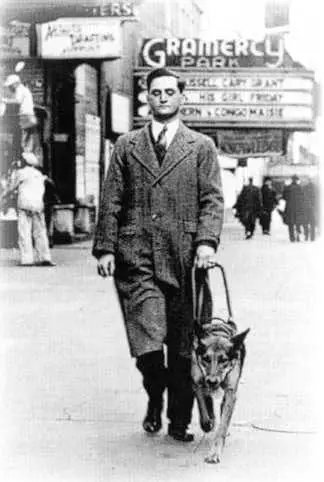 The First Generations
Shortly upon his return from Switzerland, where he studied and worked under Dorothy Harrison Eustis, a GSD trainer, Frank officially started The Seeing Eye.
The organization was started in his hometown, Nashville, back on January 29th, 1929.
However, the tricky climate conditions soon proved it would be a better idea to relocate the headquarters and the training center somewhere else. New Jersey sounded great because its climate was much more suitable for working outside and training the dogs.
But, it wasn't just the climate and the location that helped polish dogs into seeing eye canines. Not every pup was cut out to assist blind people no matter the team of genial trainers behind them.
The organization needed good, docile, and intelligent dogs… those that simply have the x factor.
Fortunately, as word spread about Frank and The Seeing Eye, great breeders got in contact with them. One of them was Willie Ebeling, a breeder who supplied the organization with numerous lines of impeccable seeing eye German Shepherds.
Yes, German Shepherds! At the early beginnings, this breed was mostly used as seeing eye dogs. Still, throughout the years, the organization experimented with different breeds so everyone got a chance to stand out.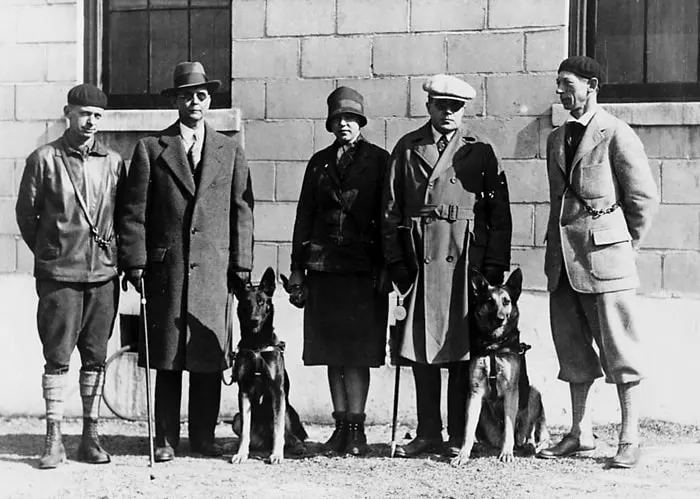 Buddy And His Seeing Eye Buddies
The Seeing Eye started with German Shepherds, but it did not stop there. The fairly fresh dog breed that was still being improved really proved as fantastic guides.
But, other dogs wanted in the program, too! Other pooches wanted to give normal lives to impaired people.
Since their founding in 1929, The Seeing Eye organization has dabbled with lots of dog breeds. Some were great… some were not so great.
Their extensive research proved what they already knew: German Shepherds were incredible as seeing eye dogs, but also were Labradors, Golden Retrievers, and their crossbreed puppies.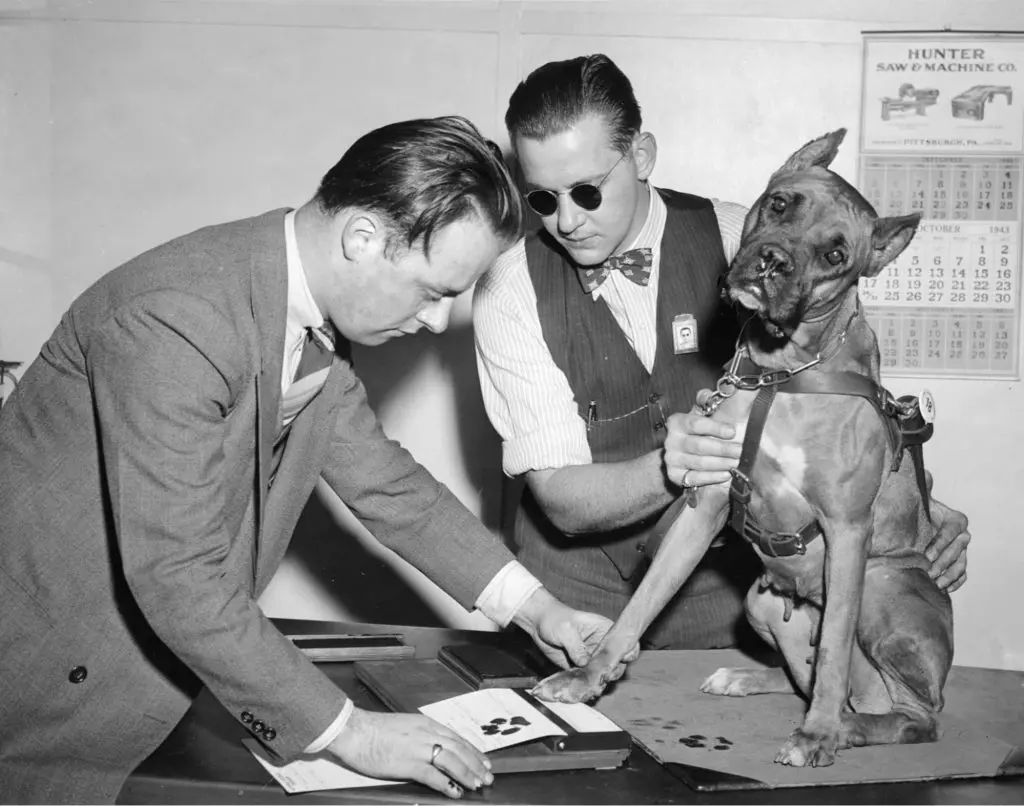 By 1938, The Seeing Eye had trained 350 guide dogs. The number was impressive for that age, and it still is today.
Imagine 350 people whose lives were stirred up and finally changed for the better. Think of the amount of happiness they felt when they got their normal daily routines back, without any judgment or feeling left out.
Unfortunately, the pioneer, the first of them all, did not live long enough to see even greater success. Buddy, the good GSD girl that started it all, sadly passed away in 1938. The world was at war, but for Frank, the world had already ended when Buddy closed her eyes forever.
The following years brought many Buddies to Frank. He didn't feel excluded, but the real Buddy was never forgotten.
When the incredible German Shepherd girl passed away, the Nation was in tears. Obituaries and final goodbyes to a dog that helped change so many lives were all over the papers.
Buddy was named a National Heroine.
The promotion of seeing eye dogs and their many benefits that were done by Buddy and Morris Frank will never be forgotten.
Thanks to the courtesy of The Seeing Eye, Inc., you can watch this video that will help you see the bond Morris and Buddy had.
The Importance Of Seeing Eye Dogs Today
Buddy's legacy is still alive. The Seeing Eye is still there, growing strong with each new day. Today, the organization is proud of more than 1,700 seeing eye dogs in North America.
The number is still small, given the fact that 1.3 million people in the States are legally blind.
When people see visually-impaired men or women walking down the street with their dog, they normally think they're there to prevent them from bumping into things.
This is true, but not completely right.
When Morris first got Buddy to walk on the streets, he felt like he had gotten his life back. People were talking to him, complimenting his dog, asking about his day, and chit-chatting. People saw a human being, not a blind person. And, Morris really missed that.
Impairment of any kind tends to yell out at people passing by, making them notice only that specific part of the person's personality. It seems like it blocks them from seeing the person behind it.
We're all human beings. We're social creatures. No matter if we're black, white, blue, short, tall, skinny, obese, or impaired in any way, we need to be treated like valuable beings. That's why seeing eye dogs matter: they make the blind person visible again.
What Will The Future Bring?
Given the fact that we live in a crazy, modern world where each new day brings a new discovery, it's quite possible that visual impairment will be successfully treated within five, ten, or fifty years or more.
What will happen if we wake up one day and hear that blindness of any kind is treatable? Will seeing eye dogs not be needed anymore?
The assistance for walking and moving around might not be needed, but we can't forget the social factor… the companionship.
These dogs are more than navigators. They're more than friends and family members. They're a part of the person they're walking with… a part that will never become loose or detached.
To conclude – seeing eye dogs are windows into the world for those who can't see with their eyes.
References:
1. History. (2022). The Seeing Eye, Inc. https://www.seeingeye.org/about-us/history.html
2. 90 Years Ago, Nashville makes history with "The Seeing Eye." (2019, January 26). Nashville Public Library. https://library.nashville.org/blog/2019/01/90-years-ago-nashville-makes-history-seeing-eye