We don't often hear a story of love in this cold, cruel world, especially not a love story between a dog and his best bunny friend.
Fortunately, there are always those "smol moments" that are able to melt even the coldest hearts.
Today's story about a golden retriever named Bear and his BFF bunny, Mighty Smols, is a fairytale that will take you on a roller coaster of emotions, and certainly make you think more about "the smol delights of life".
It Was "The Best Day Since Yesterday"
"Everybunny this is Mighty Smols. He is Hugs Bunny's younger brother, currently hanging out with their mother Luna, till he's ready to come home to us."
This is how Tanya, the owner of the Instagram profile, @a_puppy_and_a_bunny, from Manchester, Vermont, introduced the cutest member of the family.
Although they already had a little rabbit named Hugs Bunny, Bear couldn't wait for Mighty Smols to come to their place, as if he knew that something special would happen between them.
The love story between Mighty Smols and Bear began right after they met.
"A week later, I saw him sleeping next to Bear, and that was the moment I knew this is gonna be a really beautiful friendship," Tanya said in an interview for The Dodo.
From this day, every other day was a true fairytale for these two. Their day would always begin with a big bunny hug, as Mighty Smols would always be the first to say "good morning" to his best furry friend.
As the sweetest response, Bear would give Mighty Smols little kisses on his ears, and his hair would stand up like a mohawk, which is super cute.
Every day was special for them, and they were able to enjoy it in their own little way.
"They don't speak the same language, but they still are able to communicate with each other and enjoy the little things," Tanya said, and then added, "I call them small delights".
Finally, the most important aspect of their friendship was trust, as this bunny had a huge amount of trust in his big dog brother and knew that he could be safe around him. That was exactly the primary fuel of their strong relationship.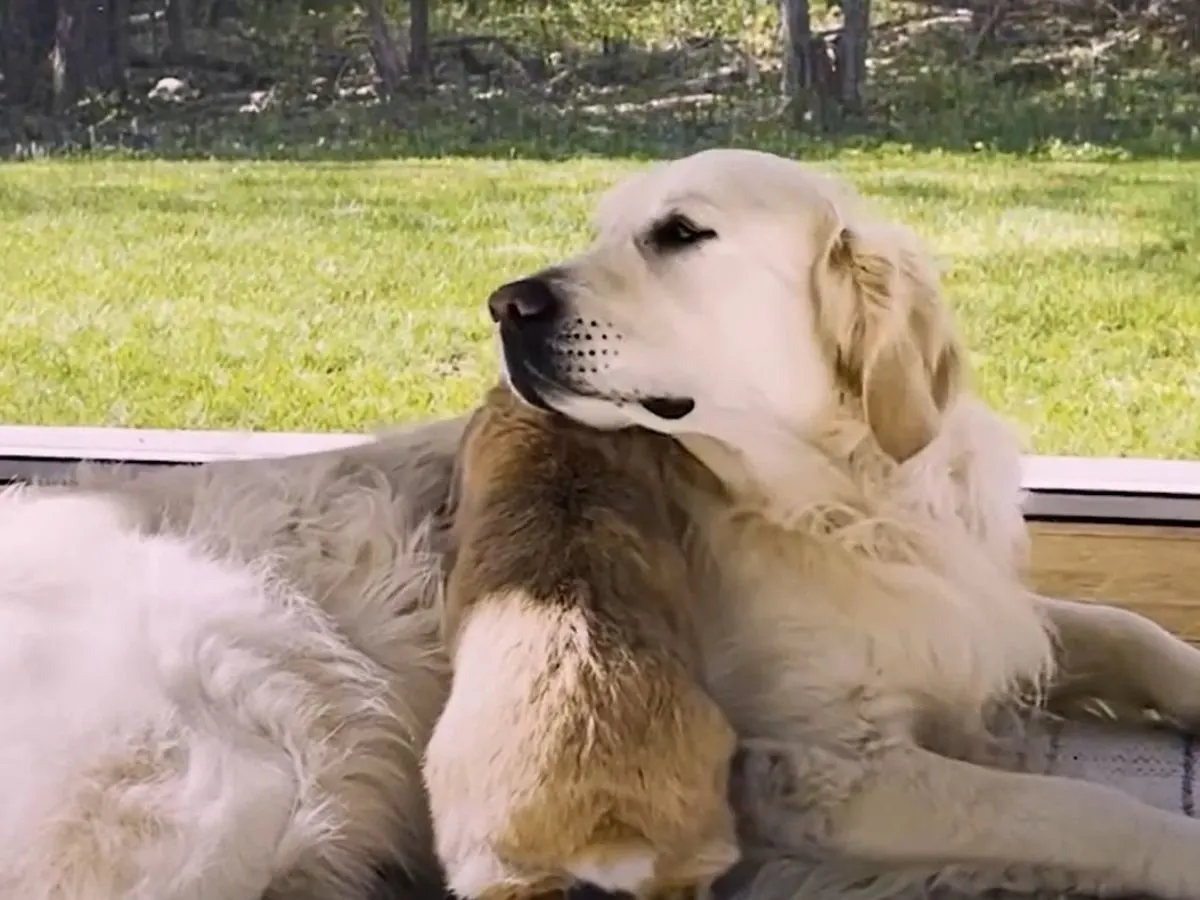 An Apple As The Symbol Of Never-Ending Friendship
As is the case with all strong bonds and relationships, there are always those special moments in which everybody can see what real love looks like. And, the symbol of love between the bunny and the dog was a simple little apple.
As Tanya stated, one time, she and Bear went to a beautiful apple orchard in Manchester, Vermont. There was one apple that Bear sniffed and held in his mouth.
Tanya was sure that he would eat it in one bite as it was so sweet and juicy, but something else happened… something truly wonderful.
Bear brought it home and gave it to Tanya to wash it. After that, he patiently waited for his BFF bunny to come so that he could share it with him.
"Bear even waited for Mighty Smols to have the first few bites, which was truly beautiful and heartwarming," Tanya said, on the verge of tears of joy, as that was one of the most touching moments in her life.
The Saddest Day Since Yesterday
Everything that is beautiful always somehow lasts too short. Although this touching love story between a bunny and a dog lasted for 4 long years, time passed so quickly, and that sad day had come.
On July 14, 2023, Tanya posted a heartbreaking text on her Instagram profile. "With a broken heart, I share that we had to say goodbye to our Mighty Smols, early Monday morning," she stated.
Bear's Little Bunny had a sudden heart failure, as he was running around and eating fine just hours before.
It was a bolt from the blue that left Bear in tears. No matter how hard his other dog friend, Cub, tried to lift his mood with his goofiness and outdoor play, Bear was inconsolable.
Tanya decided to share the story with her followers on Instagram in an imaginative way.
According to her, one day, Bear heard a voice calling him from deep in the mossy woods. As Tanya stated in her well-written story, it was the Wise Wood Sage, a local legend who had visited these Green Mountains from a faraway land.
He only appeared for those who needed to hear his words. The sage told Bear that those we hold close to our hearts will always stay with us. At that moment, Bear knew that Mighty Smols was preparing something special for him from the high clouds.
Mighty Smols' Last Gift From The Clouds
Tanya continued this interesting story in her next chapter.
Bear and Cub knew that the large bird from the high skies had delivered something for them, as the second part of the story says.
Back at the cottage, they found a letter which read, "When you go inside you will see a smol bunny who looks just like me. Love him well, ever so gentle you must be, he'll love you bacc & make you go Squeeeee!"
Bear recognized Mighty Smols' handwriting and immediately went into the cottage where he found a sweet baby bunny.
He really looked just like Mighty Smols and he had a playpen with his hay and water exactly where Mighty's used to be.
Everything the baby bunny did made Bear go squeeeee! Bear decided that he was a SmawSquee… a fitting name since it means "a smol delight" – a tribute to his never-forgotten friend, Mighty Smols.
With this sentence, Tanya ends this heartwarming story and begins a new chapter about a dog and his bunny.